01.12.2017 | Research | Ausgabe 1/2017 Open Access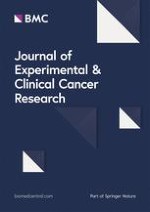 Pro-inflammation NF-κB signaling triggers a positive feedback via enhancing cholesterol accumulation in liver cancer cells
Zeitschrift:
Autoren:

Mingyan He, Wenhui Zhang, Yinying Dong, Lishun Wang, Tingting Fang, Wenqing Tang, Bei Lv, Guanglang Chen, Biwei Yang, Peixin Huang, Jinglin Xia
Abstract
Background
Hepatocellular carcinoma (HCC) develops in a complex microenvironment characterized by chronic inflammation. In recent years, cholesterol metabolic abnormalities have been implicated the importance in cancer cell physiology. This study was designed to investigate the relationship between inflammation and cholesterol accumulation in HCC cells.
Methods
Human HCC cells HepG2 and Huh7 were cultured and stimulated with lipopolysaccharide (LPS) for 24 h. The changes of HCC cells related to cholesterol metabolism including intracellular cholesterol concentrations, cholesterol uptake, and the expression of cholesterol-related genes 3-hydroxy-3-methylglutaryl-CoA reductase (HMGCR), LDL receptor (LDLR), sterol regulatory element-binding transcription factor 2 (SREBF2), and proprotein convertase subtilisin/kexin 9 (PCSK9) were comparatively analyzed. Simultaneously, the effects of nuclear factor-kappa B (NF-κB) signaling pathway on cholesterol metabolism were clarified by knocking-down of nuclear factor kappa-B kinase subunit alpha (IKKα) and TGF-beta-activated kinase 1 and MAP3K7-binding protein 3 (TAB3) via RNAi and microRNA (miR)-195. Subsequently, the roles of cholesterol accumulation in LPS induced pro-inflammatory effects were further investigated.
Results
Pro-inflammatory factor LPS significantly increased intracellular cholesterol accumulation by upregulating the expression of HMGCR, LDLR, and SREBF2, while downregulating the expression of PCSK9. These effects were revealed to depend on NF-κB signaling pathway by knocking-down and overexpression of IKKα and TAB3. Additionally, miR-195, a regulator directly targeting IKKα and TAB3, blocked the effects of cholesterol accumulation, further supporting the critical role of pro-inflammation NF-κB signaling in regulating cholesterol accumulation. Intriguingly, the accumulation of cholesterol conversely exerted an augmented pro-inflammation effects by further activating NF-κB signaling pathway.
Conclusions
These results indicated that pro-inflammation effects of NF-κB signaling could be augmented by a positive feedback via enhancing the cholesterol accumulation in liver cancer cells.