17.05.2015 | Sports Medicine | Ausgabe 12/2016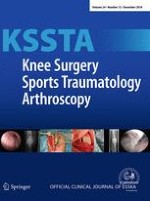 Professional football can be considered a healthy sport?
Zeitschrift:
Autoren:

Gustavo Gonçalves Arliani, Diego Costa Astur, Ricardo Kim Fukunishi Yamada, Andre Fukunishi Yamada, Artur da Rocha Corrêa Fernandes, Benno Ejnisman, Alberto de Castro Pochini, Moises Cohen
Abstract
Purpose
This study aimed to compare the results of knee MRIs of former football players with no previous knee surgeries with non-regular practitioners of impact sports, matched by age and sex, and combine these results with other variables such as current quality of life and pain in the knees.
Methods
The study participants were 16 male former professional football players and 21 male volunteers from different non-sports professional areas. All participants underwent bilateral magnetic resonances. Specific knee evaluations with regard to osteoarthritis and quality of life were performed in both groups by applying the Knee Injury and Osteoarthritis Outcome Score (KOOS) subjective questionnaires and SF-36, respectively.
Results
The between-group comparison revealed significant differences on: pain, symptoms, and quality of life related to the knee in KOOS subscales; physical aspects and vitality subscale of SF-36; and former soccer players had worst magnetic resonances scores than controls.
Conclusion
Results of this study indicate probable specific adverse effects associated with participating in professional football.
Level of evidence
Cross-sectional study, Level III.