01.12.2019 | Primary research | Ausgabe 1/2019 Open Access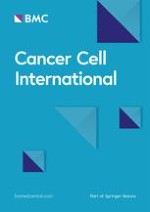 Prognostic impact of platelet-to-lymphocyte ratio on diffuse large B-cell lymphoma: a meta-analysis
Zeitschrift:
Autoren:

Ying Chen, Zongxin Zhang, Qiu Fang, Huiqin Jian
Wichtige Hinweise
Publisher's Note
Springer Nature remains neutral with regard to jurisdictional claims in published maps and institutional affiliations.
Abstract
Background
Recently, some studies reported the prognostic value of platelet-to-lymphocyte ratio (PLR) in patients with diffuse large B-cell lymphoma (DLBCL), however, the results varied from different studies. Therefore, we performed a meta-analysis to explore the prognostic value of PLR in DLBCL.
Methods
A comprehensive literature retrieval was conducted by using PubMed, Embase, Web of Science, the Cochrane Library, the China National Knowledge Infrastructure (CNKI), and Wanfang. Pooled hazard ratio (HR) and 95% confidence interval (CI) were used to evaluate the association of PLR and overall survival (OS) and progression-free survival (PFS). Odd ratios (ORs) and 95% CIs for clinicopathological characteristics were statistically analyzed.
Results
Eight studies with 1931 patients were included for meta-analysis. The pooled analysis indicated that elevated PLR was significantly associated with poor OS (HR = 1.73, 95% CI 1.29–2.31, p < 0.001), but not PFS (HR = 0.85, 95% CI 0.57–1.27, p = 0.438). Furthermore, elevated PLR was significantly associated with presentation of B symptoms (OR = 2.27, 95% CI 1.29–3.98, p = 0.004), elevated lactate dehydrogenase (LDH) (OR = 2.76, 95% CI 2.05–3.72, p < 0.001), higher tumor stage (OR = 2.22, 95% CI 1.66–2.98, p < 0.001), and Eastern Cooperative Oncology Group (ECOG) performance status (PS) ≥ 2 (OR = 1.71, 95% CI 1.09–2.69, p = 0.019). However, elevated PLR was not significantly correlated with gender, age or cell of origin.
Conclusion
This meta-analysis revealed that PLR may be an effective and noninvasive biomarker for poor prognosis and aggressive disease characteristics for patients with DLBCL.