01.12.2017 | Research article | Ausgabe 1/2017 Open Access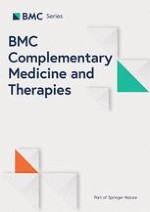 Promotion of HepG2 cell apoptosis by flower of
Allium atroviolaceum

and the mechanism of action
Zeitschrift:
Autoren:

S. Khazaei, R. Abdul Hamid, N. Mohd Esa, V. Ramachandran, Ghomi Tabatabaee F. Aalam, A. Etemad, P. Ismail
Abstract
Background
Liver cancer is a high incidence and fatal disease, the fifth most frequent cancer worldwide that is usually diagnosed at an advanced stage. The number of deaths from liver cancer has not declined even following various therapies. Plant secondary metabolites and their semi-synthetic derivatives play a principal role in anti-cancer drug therapy, since they are effective in the treatment of specific characteristics while also reducing side effects.
Allium atroviolaceum
, a plant of the genus
Allium
has been used in folk medicine to protect against several diseases. However, cytotoxicity and the anti-proliferative effect of
Allium atroviolaceum
remain unclear. This work aims to investigate the anticancer properties of
Allium atroviolaceum
and the mechanism of action.
Methods
To evaluate the
in vitro
cytotoxicity of flower of
Allium atroviolaceum
, methanol extract at a dose range from 100 to 3.12 μg/ml was assessed against the HepG2 hepatocarcinoma cell line, and also on normal 3T3 cells, by monitoring proliferation using the MTT assay method. A microscopy study was undertaken to observe morphological changes of HepG2 cells after treatment and cell cycle arrest and apoptosis were studied using flow cytometry. The apoptosis mechanism of action was assessed by the level of caspase-3 activity and expression of apoptosis related genes,
Bcl-2
,
Cdk1
and
p53
. The combination effect of the methanolic extract with doxorubicin was also investigated by determination of a combination index.
Results
The results demonstrated growth inhibition of cells in both dose- and time-dependent manners, while no cytotoxic effect on normal cell 3T3 was found. The results revealed the occurrence of apoptosis, illustrated by sub-G0 cell cycle arrest, the change in morphological feature and annexin-V and propidium iodide staining, which is correlated with
Bcl-2
downregulation and caspase-3 activity, but
p53
-independent. In addition, a combination of
Allium atroviolaceum
and doxorubicin led to a significant synergistic effect.
Conclusion
These findings suggest that
Allium atroviolaceum
flower extract has potential as a potent cytotoxic agent against HepG2 cell lines, as it has commendable anti-proliferative activities against human hepatocarcinoma and it can be considered as an effective adjuvant therapeutic agent after the clinical trials.