19.05.2016 | Original Article • SHOULDER - ARTHROPLASTY | Ausgabe 5/2016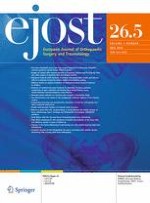 Ranges of motion after reverse shoulder arthroplasty improve significantly the first year after surgery in patients with rheumatoid arthritis
Autoren:

Hannu Tiusanen, Pjotor Sarantsin, Miika Stenholm, Ryan Mattie, Mikhail Saltychev
Abstract
Objectives
To evaluate the trajectory of the change in range of motion after reverse shoulder joint replacement during 3-year follow-up among patients with rheumatoid arthritis.
Methods
Retrospective cohort longitudinal study of 76 shoulder replacements performed in a university clinic. The range of shoulder motion was assessed by a physiotherapist using a manual goniometer with 5-degree precision before the surgery and 1, 3, 6, 12, and 36 months postoperatively.
Results
The shapes of the regression curves suggest that the improvement or decline observed in joint motion was happening mostly during the first year after surgery. After 1 year, the trajectories become flat and they remained unchanged until the end of follow-up.
Conclusions
After shoulder joint replacement, the range of shoulder motion showed substantial changes during the first year only. This should be taken into account when scheduling control visits, planning rehabilitation, and predicting the use of community services after the surgery.