01.03.2012 | Original Paper | Ausgabe 3/2012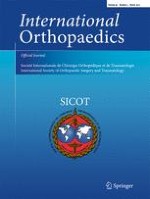 Reconstruction of the patella with an autogenous iliac graft: clinical and radiologic results in thirteen patients
Zeitschrift:
Autoren:

Dorothea Daentzer, Maximilian Rudert, Carl Joachim Wirth, Christina Stukenborg-Colsman
Abstract
Purpose
Extension lag, quadriceps weakness and subluxation of the extensor apparatus are known complications of patellectomy. In the case of total knee joint replacement with a nonconstrained system an instability may be encountered. Reconstruction of the patella allows restoration of the moment arm to improve quadriceps leverage. The goal of our study was to analyse the clinical and radiological results after reconstruction of the patella with an autogenous iliac graft.
Methods
13 previously patellectomized patients had reconstruction of the patella with an autogenous iliac graft and were retrospectively studied by clinical and radiographic examination. For evaluation we used the scores of Feller and the Knee Society. Also, all complications were recorded.
Results
After an average follow-up of 40.1 months, nine patients had full strength of the quadriceps, while six had an improved function of the extensor apparatus. The mean Feller score was 21.8 and the Knee Society score was 67.3 for knee and 57.5 for function. Six complications occurred including three infections, two problems with the replaced patella and one fracture of the anterior superior iliac spine.
Conclusions
Reconstruction of the patella with an autogenous iliac graft enables the strength of the extensor apparatus with restoration of the knee joint.