01.07.2016 | Original Contribution | Ausgabe 4/2016 Open Access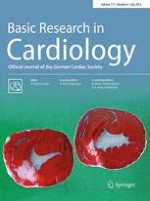 Regulator of G protein signalling 14 attenuates cardiac remodelling through the MEK–ERK1/2 signalling pathway
Zeitschrift:
Autoren:

Ying Li, Xiao-hong Tang, Xiao-hui Li, Hai-jiang Dai, Ru-jia Miao, Jing-jing Cai, Zhi-jun Huang, Alex F. Chen, Xiao-wei Xing, Yao Lu, Hong Yuan
Wichtige Hinweise
Electronic supplementary material
The online version of this article (doi:
10.​1007/​s00395-016-0566-1
) contains supplementary material, which is available to authorized users.
Abstract
In the past 10 years, several publications have highlighted the role of the regulator of G protein signalling (RGS) family in multiple diseases, including cardiovascular diseases. As one of the multifunctional family members, RGS14 is involved in various biological processes, such as synaptic plasticity, cell division, and phagocytosis. However, the role of RGS14 in cardiovascular diseases remains unclear. In the present study, we used a genetic approach to examine the role of RGS14 in pathological cardiac remodelling in vivo and in vitro. We observed that RGS14 was down-regulated in human failing hearts, murine hypertrophic hearts, and isolated hypertrophic cardiomyocytes. Moreover, the extent of aortic banding-induced cardiac hypertrophy and fibrosis was exacerbated in
RGS14
knockout mice, whereas
RGS14
transgenic mice exhibited a significantly alleviated response to pressure overload. Furthermore, research of the underlying mechanism revealed that the RGS14-dependent rescue of cardiac remodelling was attributed to the abrogation of mitogen-activated protein kinase (MEK)–extracellular signal-regulated protein kinase (ERK) 1/2 signalling. The results showed that constitutive activation of MEK1 nullified the cardiac protection in
RGS14
transgenic mice, and inhibition of MEK–ERK1/2 by U0126 reversed
RGS14
deletion-related hypertrophic aggravation. These results demonstrated that RGS14 attenuated the development of cardiac remodelling through MEK–ERK1/2 signalling. RGS14 exhibited great potential as a target for the treatment of pathological cardiac remodelling.