01.12.2015 | Research article | Ausgabe 1/2015 Open Access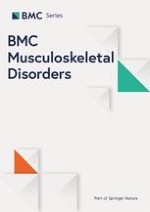 Relationship of anabolic and catabolic biomarkers with muscle strength and physical performance in older adults: a population-based cross-sectional study
Zeitschrift:
Autoren:

Yongxia Meng, Hongmei Wu, Yi Yang, Huanmin Du, Yang Xia, Xiaoyan Guo, Xing Liu, Chunlei Li, Kaijun Niu
Wichtige Hinweise
Yongxia Meng and Hongmei Wu contributed equally to this work.
Competing interests
The authors declare that they have no competing interests.
Authors' contributions
KN conceived the study concept and design; HW, HD, YX, XG, XL, and CL: completed the data collection and biomarkers detection; YY: performed the data analysis; YM and HW interpreted the results and drafted the manuscript. All authors read and approved the final manuscript.
Abstract
Background
Previous studies have found inflammation, growth factors, and androgen signaling pathways all contribute to sarcopenia. However, few studies simultaneously have investigated the association between these potential risk factors and sarcopenia among older people. The aim of the study was to investigate whether elevated levels of inflammatory cytokines combined with low levels of anabolic hormone have a synergy effect on muscle strength and functional decline in older people.
Methods
We designed a cross-sectional study of 1,131 subjects aged 60 years and older. Concentrations of serum C-reactive protein, insulin-like growth factor 1 and dehydroepiandrosteronesulphate were assessed using chemiluminescent immunoassays. Handgrip strength was measured using a dynamometer, and physical performance was assessed using a four-meter gait speed and Timed Up and Go test. We defined poor physical performance as a 4-m gait speed <0.8 m/s or Timed Up and Go test ≥13.5 s.
Results
After adjustment for potential confounding factors, in multiple linear regression analysis, C-reactive protein levels are inversely related to handgrip strength (
P
<0.01), and in multiple logistic regression analysis, C-reactive protein levels are inversely related to poor physical performance (
P
for trend <0.05) in males, but not in females. After combining three biomarkers, no significant results were observed between biomarker scores and muscle strength or physical performance.
Conclusions
In older males, higher serum C-reactive protein levels, but not insulin-like growth factor 1 and dehydroepiandrosteronesulphate levels, are independently related to lower muscle strength and poor physical performance. In this study we did not observe that a combination of higher catabolic biomarkers and lower anabolic biomarkers were better predictors for muscle strength and physical performance.