28.04.2016 | Review | Sonderheft 1/2017 Open Access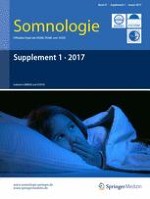 REM sleep behavior disorder (RBD)
Update on diagnosis and treatment
Zeitschrift:
Autoren:

Ao. Prof. Dr. Birgit Högl, Ambra Stefani
Abstract
Background
REM sleep behavior disorder (RBD) is parasomnia characterized by dream enactment and enabled by disruption of physiological muscle atonia during REM sleep. Over the past few years, diagnostic criteria and the methods used to confirm diagnosis have been updated.
Objective
In this review article, the current knowledge regarding RBD diagnosis and treatment is presented.
Methods
A selective literature search was carried out.
Results and discussion
Although several RBD screening questionnaires have been developed, diagnosis can only be definitely confirmed on the basis of polysomnography. New methods for scoring electromyography (EMG) activity during REM sleep have been proposed during recent years and cutoff values have been established. The latest cutoff values for scoring EMG activity during REM sleep are included in the International Classification of Sleep Disorders (ICSD). The cutoff of 27 % muscle activity during REM sleep suggested by the Sleep Innsbruck Barcelona (SINBAR) group was also included in the third edition of the ICSD. The best-researched treatments for RBD are clonazepam and melatonin.