01.12.2017 | Current Topics Review Article | Ausgabe 12/2017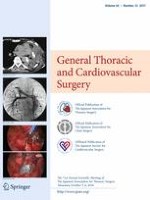 Risk factor of bronchopleural fistula after general thoracic surgery: review article
Zeitschrift:
Autoren:

Masaya Okuda, Tetsuhiko Go, Hiroyasu Yokomise
Abstract
Objective
The aim of this article was to clarify recent risk factors for the early bronchopleural fistula after anatomical lung resection.
Methods
Reports on early bronchopleural fistula after anatomical lung resection in adults, including information on risk factors, published between 2006 and 2016 were reviewed and our institutional data were evaluated. The early period was defined as within 30 days from surgery or as described early in the manuscript.
Results
A total of seven retrospective observational articles were selected. Four articles investigated lobectomy and pneumonectomy, while the other three articles investigated only pneumonectomy. The surgical procedure, preoperative therapy, complications after surgery, right side, patient age, past history, and tumor residuals were mentioned as risk factors of bronchopleural fistula. Our data concluded that neoadjuvant therapy and a right lower lobe location were risk factors after a lobectomy, while a right side and complete pneumonectomy were risk factors after a pneumonectomy.
Conclusions
Although recent studies have reached nearly the same conclusions as older reports, continuous research of potential risk factor is needed as therapeutic procedures continue to evolve.