25.05.2019 | Original Research | Ausgabe 3/2019 Open Access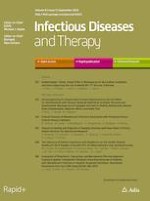 Risk Factors Associated with Linkage to Care among Suburban Hepatitis C-Positive Baby Boomers and Injection Drug Users
Zeitschrift:
Autoren:

Audun J. Lier, Kalie Smith, Kerim Odekon, Silvia Bronson, Erin Taub, Mathew Tharakan, Gerald J. Kelly, Pruthvi Patel, Luis A. Marcos
Wichtige Hinweise
Enhanced Digital Features
Abstract
Introduction
Suffolk County, located in Eastern Long Island, has been an epicenter for the opioid epidemic in New York State, yet no studies have examined hepatitis C virus (HCV) prevalence in this population. Additionally, few studies have assessed barriers for linkage to care (LTC) to HCV treatment in people who inject drugs (PWID), a high-risk HCV cohort. We aimed to determine prevalence of HCV infection in a suburban medical center and to assess risk factors associated with LTC in HCV-positive baby boomers and young PWID.
Methods
A retrospective chart review was carried out on adult patients with ICD-9/10 diagnostic codes for HCV from January 2016 to December 2018 at Stony Brook Medicine. Data collected included sociodemographics, RNA serostatus, LTC, health insurance, employment, past medical or psychiatric history, and substance or injection drug use.
Results
Overall, 27,049 individuals were screened for HCV and 1017 were HCV seropositive (3.8%), 437 (42.9%) were HCV RNA-positive and 153 (40.6%) achieved LTC. In multivariate analysis, living with cirrhosis was associated with a positive LTC. Medicaid or Medicare insurance was associated with a negative LTC. Intravenous drug users were more likely to be young and have concomitant polysubstance use and psychiatric disease. A bimodal distribution of HCV-positives is present in our population.
Conclusion
Those with liver cirrhosis are more likely to achieve LTC, as are those with private insurance. Public health efforts to promote awareness of HCV and to facilitate access to treatment among PWID are needed.