01.12.2017 | Research article | Ausgabe 1/2017 Open Access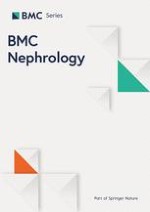 Risk factors for community-acquired acute kidney injury in patients with and without chronic kidney injury and impact of its initial management on prognosis: a prospective observational study
Zeitschrift:
Autoren:

Fabien Stucker, Belen Ponte, Victoria De la Fuente, Cyrielle Alves, Olivier Rutschmann, Sebastian Carballo, Nicolas Vuilleumier, Pierre-Yves Martin, Thomas Perneger, Patrick Saudan
Wichtige Hinweise
Electronic supplementary material
Preliminary results of this study were presented at the EDTA meeting, May 2014, Amsterdam, Netherland
Abstract
Background
We aimed to describe clinical characteristics of patients with community-acquired acute kidney injury (CA-AKI), the effectiveness of initial management of CA-AKI, its prognosis and the impact of medication on its occurrence in patients with previous chronic kidney injury (CKI).
Methods
We undertook a prospective observational study within the Emergency Department (ED) of a University Hospital, screening for any patient >16 years admitted with an eGFR <60 ml/mn/1.73 m2 and a rise in serum creatinine as compared to previous values. Patients' medical files were reviewed by a panel of nephrologists in the subsequent days and at one and three-years follow-up.
Results
From May 1st to June 21st 2013, there were 8464 admissions in the ED, of which 653 had an eGFR <60 ml/mn/1.73 m2. Of these, 352 had previous CKI, 341 had CA-AKI, and 104 had CA-ACKI (community-acquired acute on chronic kidney injury). Occurrence of superimposed CA-AKI in CKI patients was associated with male gender and with use of diuretics, but not with use of ARBs or ACEIs.
Adequate management of CA-AKI defined as identification, diagnostic procedures and therapeutic intervention within 24 h, was recorded in 45% of the cases and was not associated with improved outcomes.
Three-year mortality was 21 and 48% in CKI and CA-ACKI patients respectively, and 40% in patients with only CA-AKI (
p
 < 0.001). Mortality was significantly associated with age, hypertension, ischemic heart disease and CA-AKI.
Progression of renal insufficiency was associated with male gender and age.
Conclusions
CA-AKI is more frequently encountered in male patients and those treated with diuretics and is an independent risk factor for long-term mortality. Its initial adequate management failed to improve outcomes.