01.12.2017 | Research | Ausgabe 1/2017 Open Access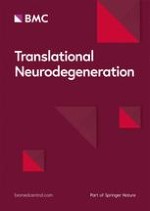 Roles of functional catechol-O-methyltransferase genotypes in Chinese patients with Parkinson's disease
Zeitschrift:
Autoren:

Yiwei Qian, Jiujiang Liu, Shaoqing Xu, Xiaodong Yang, Qin Xiao
Wichtige Hinweise
Electronic supplementary material
The online version of this article (doi:
10.​1186/​s40035-017-0081-9
) contains supplementary material, which is available to authorized users.
Abstract
Background
Recent studies have found that the functional catechol-O-methyltransferase (COMT) gene may be associated with the susceptibility to and pharmacotherapy of Parkinson's disease (PD). In this case–control study, we investigated the most common functional COMT gene haplotypes that had been shown to influence COMT enzymatic activity and the association of the single and combined COMT haplotypes with clinical symptoms and pharmacotherapy in Chinese patients with PD.
Methods
One hundred forty-three patients with idiopathic PD and 157 healthy individuals were enrolled in this study. Four single nucleotide polymorphisms (SNPs) in the COMT gene (formed by SNPs) were genotyped in each participant: rs6269 A > G; rs4633 C > T; rs4818 C > G; and rs4680 G > A.
Results
The frequencies of rs4633 T carriers, rs4680 A carriers and the two linked rs4633-rs4680 T/A carriers were significantly higher in the early onset PD group than in the healthy controls (all
P
 < 0.05). Homozygosity for rs4633 (TT), rs4680 (AA) and of the two linked rs4633-rs4680 (TT/AA) was significantly more frequent in patients who exhibited the "wearing-off" phenomenon, longer disease duration, higher levodopa equivalent doses (LED) and higher Unified Parkinson's Disease Rating Scale (UPDRS) scores (
P
 < 0.05). No significant differences were observed in the clinical features of patients who carried individual rs6269 and rs4818, the two linked rs6269-rs4818 and the four combined COMT SNPs.
Conclusions
The results showed a possible association of combined functional COMT SNPs with PD risk, disease duration, the "wearing-off" phenomenon, daily LEDs and higher UPDRS scores, which may be useful in instituting individualized therapy for patients with PD.