01.12.2018 | Research article | Ausgabe 1/2018 Open Access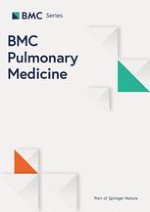 Secondary pulmonary alveolar proteinosis: a single-center retrospective study (a case series and literature review)
Zeitschrift:
Autoren:

Dongmei Zhang, Xinlun Tian, Ruie Feng, Xiaobei Guo, Peng Wang, Yusen Situ, Yi Xiao, Kai-Feng Xu
Wichtige Hinweise
Electronic supplementary material
Abstract
Background
Secondary pulmonary alveolar proteinosis (sPAP) is an extremely rare disease. The clinical features of sPAP patients remain to be summarizeds.
Methods
Patients pathologically diagnosed with PAP and with negative results for anti-granulocyte macrophage colony stimulating factor (GM-CSF) autoantibodies from Peking Union Medical College Hospital between January 2000 and July 2016 were retrospectively studied. The PubMed database was also searched for literature to collect published cases.
Results
In our center, nine patients were diagnosed as sPAP with a median age of 37 years. Hematological disorders, including myelodysplastic syndrome (MDS), chronic myelogenous leukemia (CML), and pulmonary tuberculosis (TB) infection were the underlying diseases. Cases secondary to MDS had very poor prognosis as all of them survived less than 2 years after their diagnosis, while those secondary to TB had favorable prognosis. Only 33.3% of cases showed interlobular septal thickening in our sPAP group. Through literature review, 164 sPAP cases were collected. The age at diagnosis was 45.0 ± 14.8 years old and the gender radio was 1.20:1 (M:F). 61.9% of cases were diagnosed by bronchoscopy. MDS and CML were common underlying diseases in 34.1% and 15.2% of patients, respectively. Patients with sPAP secondary to hematological diseases had a short survival time and half of them died within 14.95 months after diagnosis.
Conclusions
MDS and TB infection were the most frequent underlying causes of sPAP in this single-center research in China, with cases secondary to MDS having a poor survival rate. sPAP was more likely to be secondary to hematological disorders, especially MDS and CML and had a fairly poor prognosis in published cases. sPAP should be suspected in PAP patients whose CT scan presents only ground-glass opacities without interlobular septal thickening.