01.12.2018 | Research article | Ausgabe 1/2018 Open Access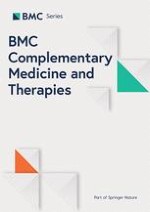 Sheng Jiang San, a traditional multi-herb formulation, exerts anti-influenza effects in vitro and in vivo via neuraminidase inhibition and immune regulation
Zeitschrift:
Autoren:

Tianbo Zhang, Mengjie Xiao, Chun-Kwok Wong, Ka-Pun Chris Mok, Xin Zhao, Huihui Ti, Pang-Chui Shaw
Wichtige Hinweise
Electronic supplementary material
Abstract
Background
Sheng Jiang San (SJS), a multi-herb formulation, is used in treating high fever, thirsty and anxiety in ancient China and it is sometimes used to treat seasonal influenza nowadays. However, there is no evidence-based investigation and mechanism research to support the anti-influenza efficacy of SJS. This study aims at evaluating the anti-influenza effect of SJS and investigating its possible mechanism.
Methods
The inhibitory effect of SJS against different influenza virus strains on MDCK cells was examined. Influenza virus infected BALB/c mice were employed to evaluate the efficacy as in vivo model. Mice challenged with A/PR/8/34 (H1N1) were orally administrated 1 g/kg/day of SJS for seven days and monitored for 14 days. The survival rate, body weight changes, lung index, lung viral load, histopathologic changes and immune regulation of the mice were measured. The underlying anti-influenza virus mechanism of SJS was studied by a series of biological assays to determine if hemagglutinin, ribonucleoprotein complex or neuraminidase were targets of SJS.
Results
Results showed SJS exerted a broad-spectrum of inhibitory effects on multiple influenza strains in a dose-dependent manner. IC50 of SJS against A/WSN/33 (H1N1) was lower than 35 μg/ml. SJS also protected 50% of mice from A/PR/8/34 (H1N1) infection. The lung index and the lung viral load of SJS treated mice were significantly decreased compared with untreated mice. Meanwhile, SJS targeted on neuraminidase of influenza virus as SJS at 2 mg/ml inhibited 80% of neuraminidase enzymatic activity. SJS also significantly down-regulated TNF-α and up-regulated IL-2 of influenza virus induced mice.
Conclusions
Thus, SJS is a useful formulation for treating influenza virus infection.