01.12.2018 | Primary Research | Ausgabe 1/2018 Open Access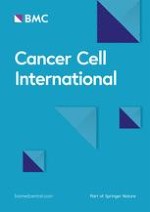 SHP-2 restricts apoptosis induced by chemotherapeutic agents via Parkin-dependent autophagy in cervical cancer
Zeitschrift:
Autoren:

Dewen Yan, Danyang Zhu, Xiumin Zhao, Jun Su
Abstract
Background
Autophagy is a cell degradation pathway that eliminates damaged or unwanted proteins and organelles. Autophagy protects cells from chemotherapeutic agents by scavenging damaged mitochondria.
Methods
Plasmid transfection and shRNA were used to regulate SHP-2 expression. Annexin V/PI staining were employed to analysis apoptosis. Flow cytometry was used to analyse intracellular calcium level and ROS. Immunofluorescence was used to detect mitochondria membrane potential, autophagy and Parkin translocation.
Results
In cervical cancer, we found that SHP-2 suppressed apoptosis induced by Oxaliplatin and 5-FU. Further studies have found that SHP-2 protects against mitochondrial damage. This role of SHP-2 is associated with the activation of autophagy. In addition, SHP-2 degraded impaired mitochondria dependent on the ubiquitin ligase function of Parkin.
Conclusions
These results suggest that SHP-2 inhibits the apoptosis induced by chemotherapeutic drugs through activating autophagy to degrade damaged mitochondria and ubiquitin ligase Parkin involved in SHP-2 induced autophagy.