16.03.2016 | Original Research | Ausgabe 2/2016 Open Access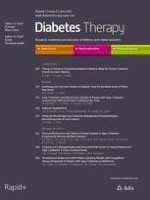 Simultaneous Reduction in Both HbA1c and Body Weight with Canagliflozin Versus Glimepiride in Patients with Type 2 Diabetes on Metformin
Zeitschrift:
Autoren:

Lawrence A. Leiter, Gisle Langslet, Ujjwala Vijapurkar, Michael J. Davies, William Canovatchel
Wichtige Hinweise
This manuscript was previously presented, in part, in abstract form at the 24th Annual Scientific and Clinical Congress of the American Association of Clinical Endocrinologists (AACE), May 13–17, 2015, Nashville, TN, USA; and at the 51st Annual Meeting of the European Association for the Study of Diabetes (EASD), September 14–18, 2015, Stockholm, Sweden.
Abstract
Introduction
Canagliflozin, a sodium glucose co-transporter 2 (SGLT2) inhibitor, has demonstrated sustained improvements in glycemic control and body weight reductions with treatment for up to 104 weeks in a broad range of patients with type 2 diabetes mellitus (T2DM).
Methods
This was a post hoc analysis of individual patient data (
N
= 1450) from a randomized, double-blind, placebo-controlled, Phase 3 study comparing canagliflozin with glimepiride as add-on to metformin in patients with T2DM during a 52-week core period followed by a 52-week extension period. The number of patients who achieved a reduction from baseline in both HbA1c and body weight with canagliflozin 100 and 300 mg and glimepiride was assessed at Weeks 52 and 104. Safety was recorded as adverse events (AEs) during the study.
Results
Canagliflozin 100 and 300 mg provided durable glycemic improvements and body weight reductions compared with glimepiride over 104 weeks. At Week 52, the proportion of patients who achieved reductions in both HbA1c and body weight was 72.4% with canagliflozin 100 mg, 78.5% with canagliflozin 300 mg, and 26.8% with glimepiride; similar results were observed at Week 104 (65.5%, 71.1%, and 26.8% with canagliflozin 100 and 300 mg and glimepiride, respectively). The AE profile of canagliflozin was comparable to that observed in previous studies, with increased incidence of AEs related to the mechanism of SGLT2 inhibition (e.g., genital mycotic infections, urinary tract infections, and osmotic diuresis–related AEs) and a low risk of hypoglycemia.
Conclusion
More patients treated with canagliflozin experienced reductions in both HbA1c and body weight compared with glimepiride for up to 104 weeks. Canagliflozin was generally well tolerated in patients with T2DM when used in combination with metformin.
Clinical Trial Registration
ClinicalTrials.gov identifier, NCT00968812.
Funding
Janssen Research & Development, LLC.