01.12.2016 | Review | Ausgabe 1/2016 Open Access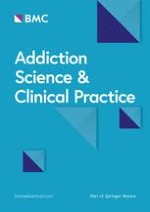 Sleep abnormalities associated with alcohol, cannabis, cocaine, and opiate use: a comprehensive review
Zeitschrift:
Autoren:

Gustavo A. Angarita, Nazli Emadi, Sarah Hodges, Peter T. Morgan
Background
Sleep problems are commonly associated with drug and alcohol use. Nearly 70 % of patients admitted for detoxification report sleep problems prior to admission, and 80 % of those who report sleep problems relate them to their substance use [
169
]. The association between substance use and sleep problems appears to be bidirectional [
105
,
110
], with sleep problems increasing risk for developing substance use disorders [
31
,
89
,
210
], and acute and chronic substance use leading to acute and chronic problems with sleep [
44
,
47
,
89
,
97
,
104
,
138
,
156
,
168
]. Evidence also indicates that long-term abstinence from chronic substance use can reverse some sleep problems [
13
,
37
]. This paper aims to explore and clarify the strong yet not entirely understood connection between abnormalities in sleep and substance use. By improving our understanding of sleep disorders that either predispose to substance use or are the result of chronic substance use, we may be better able to prevent and treat substance use disorders.
Understanding the sleep problems related to substance use disorders requires characterizing them both subjectively and objectively, while considering how sleep responds to periods of use and abstinence. This review will describe such research with regard to alcohol, cannabis, cocaine, and opioids. In addition, this review will discuss evidence that sleep abnormalities predict use and relapse, and that sleep abnormalities can be modulated to improve clinical outcome. This paper will also review potential pharmacological agents that modulate sleep. Psychotherapy options, albeit evidence-based and of clear clinical value, will not be discussed in this review as these are addressed elsewhere [
15
,
110
].
Methods
This is a narrative, non-systematic review of clinical trials conducted in humans. For the literature search, Pubmed, Ovid Medline, and Web of Science databases were used. For each drug (e.g., alcohol, cannabis/marijuana, cocaine, and opioids/heroin) keywords included terms describing abnormal/pathological use (e.g., alcohol use disorders, alcohol abuse, alcohol dependence, and alcohol addiction, etc.) combined with terms referring to sleep or sleep abnormalities [e.g., sleep, insomnia, polysomnography, total sleep time, slow-wave sleep, rapid eye movement (REM) sleep, sleep latency, REM latency; these terms are defined in Table
1
]. In addition to extracting data available in each of the retrieved articles, reference lists from each retrieved article were examined to identify articles missed by the initial search. For each drug, the available literature on subjective measurements, objective measurements, the relationship between subjective and objective measurements, clinical and laboratory correlates of sleep outcomes, and pharmacotherapies related to sleep were summarized.
Table 1
Sleep terminology
| | |
| --- | --- |
| Homeostatic sleep drive | The drive to sleep that progressively builds with continued wakefulness |
| Insomnia | A sleep disorder in which the quantity or quality of sleep is less than desired, usually characterized by difficulty falling or staying asleep, or waking too early, and experiencing daytime consequences of reduced sleep |
| Polysomnography (PSG) | A technique that records brain activity, eye movements, and muscle tone in order to study sleep and diagnose sleep disorders |
| Rapid eye movement (REM) sleep | The phase of sleep characterized by conjugate eye movements, paralysis of other muscles, and brain activity that is most similar to wakefulness |
| REM density | The frequency of rapid eye movements occurring during REM sleep. REM density increases over the course of the sleep period and is greatest when homeostatic sleep drive (sleep pressure) is lowest |
| REM latency | The amount of time from the onset of sleep to the onset of REM sleep |
| REM rebound | The characteristic increase in REM sleep after REM sleep deprivation |
| Self-administration | A method involving research participants administering a substance to themselves under observation in a clinical setting |
| Sleep architecture | The structure of sleep, including non-REM (stages N1, N2, and N3) and REM (stage R) sleep |
| Sleep efficiency (SE) | The percent of time in bed spent sleeping, calculated as total sleep time divided by time in bed |
| Sleep fragmentation | Disruption in sleep characterized by awakenings and transitions to light (stage N1) sleep from deeper sleep |
| Sleep latency (SL) | The amount of time from lights out to sleep onset |
| Slow-wave sleep (SWS) | Also known as stage N3 sleep, slow wave sleep is characterized by low frequency and high amplitude waves |
| Total sleep time (TST) | The amount of sleep in one complete episode of sleeping, usually reported in minutes |
| Wake after sleep onset (WASO) | The amount of time awake after the onset of sleep and before final wakening |
Alcohol
Cannabis
Cocaine
Opioids
Conclusion
Overwhelming evidence points to chronic alterations in sleep from chronic use of addictive substances that may be distinct from some or all of the acute effects of those substances. Interestingly, the effects of chronic use on sleep are similar among both CNS stimulants and depressants. Decreased sleep time, increased sleep latency and wake time after sleep onset, and deficiency in slow-wave sleep generation appear to be common to chronic use of alcohol, cocaine, cannabis, and opiates. REM sleep is also affected by acute and chronic use, but may be more sensitive to the pattern or quantity of recent use and time from last use, as results vary more among studies. Also linking these abnormalities are connections with ongoing use and relapse. However, treatment with typical sleep promoting agents that increase sleep time or efficiency by increasing light sleep may be counterproductive. Agents that address deficiency in slow-wave sleep generation and alterations in REM sleep may prove to be more useful in addressing the connection between chronically-altered sleep physiology and ongoing use and relapse, but substantial research still needs to be done to explore this possibility.
Authors' contributions
GA performed the initial literature review and drafted the introduction and alcohol sections and coordinated the work of NE and SH. NE drafted the cannabis and opiate sections. SH drafted the cocaine section. PM oversaw the work of the other authors and re-worked the manuscript into its final form, contributing to each section. All authors read and approved the final manuscript.
Acknowledgements
This work was supported by CTSA UL1 TR000142 from the National Center for Advancing translational Science (NCATS), components of the National Institutes of Health (NIH), and NIH roadmap for Medical Research. Its contents are solely the responsibility of the authors and do not necessarily represent the official view of NIH. This work was also supported by DA-011744 (PTM) and the Connecticut Department of Mental Health and Addictions Services.
Competing interests
The authors declare that they have no competing interests.
Open Access
This article is distributed under the terms of the Creative Commons Attribution 4.0 International License (
http://​creativecommons.​org/​licenses/​by/​4.​0/​
), which permits unrestricted use, distribution, and reproduction in any medium, provided you give appropriate credit to the original author(s) and the source, provide a link to the Creative Commons license, and indicate if changes were made. The Creative Commons Public Domain Dedication waiver (
http://​creativecommons.​org/​publicdomain/​zero/​1.​0/​
) applies to the data made available in this article, unless otherwise stated.