01.12.2016 | Research article | Ausgabe 1/2016 Open Access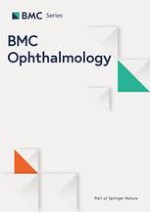 Spectral domain optical coherence tomography and B-scan ultrasonography in the evaluation of retinal tears in acute, incomplete posterior vitreous detachment
Zeitschrift:
Autoren:

Solmaz Abdolrahimzadeh, Domenica Carmen Piraino, Vittorio Scavella, Barmak Abdolrahimzadeh, Filippo Cruciani, Magda Gharbiya, Santi Maria Recupero
Abstract
Background
The purpose of this study was to evaluate the extension and traction effects of posterior vitreous detachment (PVD) complicated with retinal tears using spectral domain optical coherence tomography (OCT) and B-scan ultrasonography.
Methods
Complete ophthalmological examination, B-scan ultrasonography and spectral domain OCT were performed in patients with acute PVD and retinal tears. Vitreous detachment was classified as complete or incomplete, based on extent of posterior pole or peripheral vitreous detachment. Retinal tear location and persistent traction on the retinal flap was evaluated with B-scan ultrasonography and OCT. Categorical data were evaluated with Fisher's exact test. Statistical significance was considered as
P
 < 0.05.
Results
Twenty-six eyes of 25 patients were assessed. Four eyes (15 %) presented complete PVD with detachment at the posterior pole and periphery. 22 eyes (85 %) presented incomplete PVD with detachment in the periphery. Twenty eyes presented retinal tears in the superior quadrants with respect to only 6 in the inferior quadrants (
p
 = 0.006). There was a higher incidence of retinal tears in the pre with respect to post-equatorial areas (19 vs 7 eyes,
p
 = 0.019). B-scan ultrasonography and OCT revealed persistent traction on the retinal tear flap in 19 and 15 eyes, respectively.
Conclusions
In acute PVD, retinal tears are prevalently associated with peripheral vitreous detachment. The impact of complete or incomplete PVD can be of clinical value when evaluating patients with retinal tears.