01.12.2017 | Research | Ausgabe 1/2017 Open Access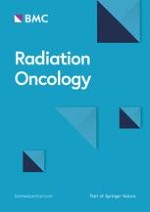 Stereotactic body radiation therapy (SBRT) for definitive treatment and as a bridge to liver transplantation in early stage inoperable Hepatocellular carcinoma
Zeitschrift:
Autoren:

Assaf Moore, Michal Cohen-Naftaly, Anna Tobar, Yulia Kundel, Ofer Benjaminov, Marius Braun, Assaf Issachar, Eytan Mor, Michal Sarfaty, Dimitri Bragilovski, Ran Ben Hur, Noa Gordon, Salomon M. Stemmer, Aaron M. Allen
Abstract
Background and Purpose
Stereotactic body radiotherapy (SBRT) is an emerging modality for definitive treatment of Hepatocellular carcinoma (HCC).
Materials and Methods
This retrospective study included all early stage HCC patients who were not candidates for primary resection and/or local therapy, treated with SBRT between 11/2011 and 1/2016.
Results
Twenty-three patients were included. The median age was 62 years; 70% males; 30% females; 70% viral hepatitis carriers; 100% cirrhotic; 13 Child Pugh [CP]-A and 10 [CP]-B. The median tumor volume was 12.7cm3 (range, 2.2–53.6 cm3). Treatment was well tolerated. With the exception of one patient who developed RILD, no other patient had significant changes in 12 weeks of laboratory follow-up. SBRT was a bridge to transplantation in 16 patients and 11 were transplanted.. No surgical difficulties or complications were reported following SBRT, and none of the transplanted patients had local progression before transplantation. The median prescribed dose to the tumor was 54Gy (range, 30-54Gy), the median dose to the uninvolved liver was 6.0Gy(range, 1.6–12.6Gy). With a median follow-up time of 12 months, the median overall-survival for the 11 transplanted patients was not reached (range, 2.0–53.7+ months) and was 23 months for the 12 non-transplanted patients. The median progression-free survival for the transplanted patients was not reached (54+ months) and was 14.0 months for the non-transplanted patients. There was no SBRT-related mortality. Liver explant post SBRT revealed pathological complete response in 3(27.3%), pathological partial response in 6(54.5%), and pathological stable disease in 2(18.2%) tumors.
Conclusions
SBRT is safe and effective and can be used as a bridge to transplantation without comprising the surgical procedure.