01.12.2018 | Research article | Ausgabe 1/2018 Open Access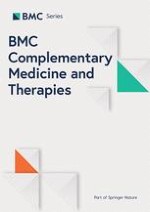 Subchronic toxicity, immunoregulation and anti-breast tumor effect of Nordamnacantal, an anthraquinone extracted from the stems of
Morinda citrifolia

L
Zeitschrift:
Autoren:

Nadiah Abu, Nur Rizi Zamberi, Swee Keong Yeap, Noraini Nordin, Nurul Elyani Mohamad, Muhammad Firdaus Romli, Nurulfazlina Edayah Rasol, Tamilselvan Subramani, Nor Hadiani Ismail, Noorjahan Banu Alitheen
Abstract
Background
Morinda citrifolia
L. that was reported with immunomodulating and cytotoxic effects has been traditionally used to treat multiple illnesses including cancer. An anthraquinone derived from fruits of
Morinda citrifolia
L., nordamnacanthal, is a promising agent possessing several in vitro biological activities. However, the in vivo anti-tumor effects and the safety profile of nordamnacanthal are yet to be evaluated.
Methods
In vitro cytotoxicity of nordamnacanthal was tested using MTT, cell cycle and Annexin V/PI assays on human MCF-7 and MDA-MB231 breast cancer cells. Mice were orally fed with nordamnacanthal daily for 28 days for oral subchronic toxicity study. Then, the in vivo anti-tumor effect was evaluated on 4T1 murine cancer cells-challenged mice. Changes of tumor size and immune parameters were evaluated on the untreated and nordamnacanthal treated mice.
Results
Nordamnacanthal was found to possess cytotoxic effects on MDA-MB231, MCF-7 and 4T1 cells in vitro. Moreover, based on the cell cycle and Annexin V results, nordamnacanthal managed to induce cell death in both MDA-MB231 and MCF-7 cells. Additionally, no mortality, signs of toxicity and changes of serum liver profile were observed in nordamnacanthal treated mice in the subchronic toxicity study. Furthermore, 50 mg/kg body weight of nordamncanthal successfully delayed the progression of 4T1 tumors in Balb/C mice after 28 days of treatment. Treatment with nordamnacanthal was also able to increase tumor immunity as evidenced by the immunophenotyping of the spleen and YAC-1 cytotoxicity assays.
Conclusion
Nordamnacanthal managed to inhibit the growth and induce cell death in MDA-MB231 and MCF-7 cell lines in vitro and cease the tumor progression of 4T1 cells in vivo
.
Overall, nordamnacanthal holds interesting anti-cancer properties that can be further explored.