21.06.2017 | Original Article - Vascular | Ausgabe 9/2017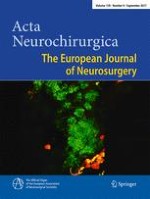 Surgical treatment of unruptured distal basilar artery aneurysm: durability and risk factors for neurological worsening
Zeitschrift:
Autoren:

Hidetoshi Matsukawa, Hiroyasu Kamiyama, Takanori Miyazaki, Yu Kinoshita, Toshiyuki Tsuboi, Kosumo Noda, Nakao Ota, Norihiro Saito, Rihee Takeda, Sadahisa Tokuda, Rokuya Tanikawa
Wichtige Hinweise
Comments
In this article, the authors examine the microsurgical treatment of unruptured distal basilar artery aneurysms, a subject that is becoming increasingly esoteric in the age of endovascular therapy, but perhaps is therefore all the more important. They looked at 56 patients, of whom 37 had involvement of the basilar and 19 the superior cerebellar artery region. Of these, nine were complex. In their series, 87% achieved good outcomes, and only two patients died or did poorly. These are excellent results for this pathology and might well be comparable to modern endovascular series. For many patients who can undergo either procedure, the prospect of a craniotomy with its recovery may still lead them to choose endovascular therapy. Median hospital stays were rather long by US standards for an elective case at 20 days. This may speak more to local health care culture than to a measure of the impact of surgery on the patients.
It is interesting that the outcomes for both basilar and SCA aneurysms were similar in the authors' hands. This is different from what has previously been described by many, but not unreasonable—separating out and preserving the perforators are more of a challenge in ruptured cases, where the field is more restricted by a tight brain, blood obscures the field and adheres to the anatomy, and aneurysm mobilization is more challenging. Nonetheless, 11% of patients did have perforator infarctions radiographically. It is notable that 75% of patients still had some complications, of which transient third nerve palsy was the most common. This might be seen as a routine part of the treatment rather than a true complication.
In many parts of the world, clipping may still be appropriate for a variety of reasons related to local health care delivery capabilities and costs. Clearly, a high degree of technical ability is required to discharge our duty to patients. In this study, that bar appears to have been met and for that the authors should be congratulated.
Peter Nakaji
Phoenix, Arizona
Abstract
Background
Distal basilar artery aneurysms (DBAs) consist of basilar apex and basilar artery-superior cerebellar artery bifurcation (BA-SCA) aneurysms. The authors aimed to investigate clinical and radiological differences between two locations and to evaluate the 12-month surgical outcome in unruptured DBAs.
Methods
Fifty-six consecutive patients who underwent surgical treatment (37 basilar apex and 19 BA-SCA aneurysms) between April 2012 and February 2016 were retrospectively evaluated. In patients with a preoperative modified Rankin Scale score (mRS) of more than 1, neurological worsening (NW) was defined as an increase in one or more mRS. In patients without symptoms, NW was defined as mRS ≥2.
Results
The mean age of the patient population was 64 ± 9.6 years, and 48 (86%) were female. Mean follow-up period was 2.6 ± 0.94 years. An excellent (mRS 0 to 1) outcome was archived in 31 (55%), 45 (82%), and 48 (87%) patients at 30 days, 6 months, and 12 months, respectively. Clinical and radiological characteristics showed no differences between two locations. One early death (1.8%) and one severe morbidity (1.8%) due to rupture were observed. The postoperative annual rupture rate was 1.4% overall (145 patient-years). After adjustment for age and location, large or giant DBA was related to 30-day and 12-month NW [
n
= 22 (39%) and
n
= 6 (11%);
p
= 0.009 and 0.002, respectively], aneurysm localization in the interpeduncular cistern (LIC) and perforator territory infarction were related to 30-day NW (
p
= 0.002 and 0.002), and DBA that needed bypass surgery and previously treated recurrent DBA were related to NW at 12 months (
p
= 0.017 and 0.001). Multivariate analysis showed that LIC was significantly related to perforator territory infarction (
p
= 0.003).
Conclusions
Clinical and radiological characteristics were not different between basilar apex and BA-SCA aneurysms; therefore, they should not be discussed separately. To avoid neurological worsening, results of surgical treatment for unruptured DBAs should be improved.