01.12.2010 | Research | Ausgabe 1/2010 Open Access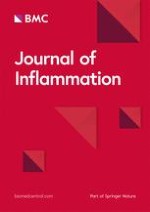 The anti-inflammatory effects of the tellurium redox modulating compound, AS101, are associated with regulation of NFκB signaling pathway and nitric oxide induction in macrophages
Zeitschrift:
Autoren:

Miri Brodsky, Gilad Halpert, Michael Albeck, Benjamin Sredni
Wichtige Hinweise
Electronic supplementary material
The online version of this article (doi:
10.​1186/​1476-9255-7-3
) contains supplementary material, which is available to authorized users.
Competing interests
The author(s) declare that, except for income received from their primary employer, no financial support or compensation has been received from any individual or corporate entity over the past three years for research or professional service and there are no personal financial holdings that could be perceived as constituting a potential conflict of interest.
Authors' contributions
MB conceived of the study, performed the experiments and carried out the majority of the assays, performed the statistical analysis, participated in the design and coordination of the study, and drafted the manuscript.
GH carried out the IL-6 ELISA, participated in the statistical analysis and in the coordination of the study.
MA participated in the design of the study, its coordination and drafted the manuscript.
BS conceived of the study, participated in the design and coordination of the study, and drafted the manuscript.
All authors read and approved the final manuscript.
Abstract
Background
LPS-activated macrophages produce mediators which are involved in inflammation and tissue injury, and especially those associated with endotoxic shock. The non toxic tellurium compound ammonium tri-chloro(dioxoethylene-O,O'-)tellurate, AS101, has been recently shown to exert profound anti-inflammatory properties in animal models, associated with its Te(IV) redox chemistry. This study explores the anti-inflammatory properties of AS101 with respect to modulation of inflammatory cytokines production and regulation of iNOS transcription and expression in activated macrophages via targeting the NFkB complex.
Results
AS101 decreased production of IL-6 and in parallel down-regulated LPS-induced iNOS expression and NO secretion by macrophages. AS101 reduced IkB phosphorylation and degradation, and reduced NFkB nuclear translocalization, albeit these effects were exerted at different kinetics. Chromatin immunoprecipitation assays showed that AS101 treatment attenuated p50-subunit ability to bind DNA at the NFkB consensus site in the iNOS promotor following LPS induction.
Conclusions
Besides AS101, the investigation of therapeutic activities of other tellurium(IV) compounds is scarce in the literature, although tellurium is the fourth most abundant trace element in the human body. Since IKK and NFkB may be regulated by thiol modifications, we may thus envisage, inview of our integrated results, that Te(IV) compounds, may have important roles in thiol redox biological activity in the human body and represent a new class of anti-inflammatory compounds.