01.12.2019 | Research article | Ausgabe 1/2019 Open Access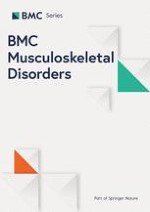 The dysplastic trochlear sulcus due to the insufficient patellar stress in growing rats
Zeitschrift:
Autoren:

Guangmin Yang, Faquan Li, Jiangfeng Lu, Yingzhen Niu, Yike Dai, Lixiong Zuo, Gengshuang Tian, Fei Wang
Wichtige Hinweise
Publisher's Note
Springer Nature remains neutral with regard to jurisdictional claims in published maps and institutional affiliations.
Abstract
Background
Developmental factors were assumed to be the key factors that influenced the morphology of femoral trochlea. This study investigated the effects of insufficient patellar stress after birth on the morphological development of the femoral trochlea. Effects of insufficient patellar stress on femoral trochlea were investigated using surgical induced patellectomy and patellar dislocation in growing rat model.
Methods
In this study, two experimental groups and one sham group (SG) were established. Thirty-six Wistar rats (female, 28 days of age) were randomly assigned to three groups. The patellectomy group (PG), rats underwent the patellectomy in this group. The dislocation group (DG), rats underwent the surgery-induced patellar dislocation. Histological staining (Safranin-O and fast green), Micro-computed tomographic (Micro-CT) analysis in two experimental endpoints (3, 12 weeks postoperatively) were selected to evaluate morphological changes of the femoral trochlea.
Results
Articular cartilage on the trochlear sulcus was remodeled at 3 weeks after the surgery, and degenerated at 12 weeks through the histological staining. The femoral trochlear angle (FTA) did not show a significant difference at 3 week between the experimental groups and the sham group (PG vs SG
P
 = 0.38, DG vs SG
p
 = 0.05), but the FTA was significantly increased in experimental groups at 12 weeks(PG vs SG
P
 = 0.001, DG vs SG
p
 = 0.005). The Bone volume density (BV/TV), Trabecular number (Tb.N) under the trochlea groove were significantly reduced at 3 weeks postoperatively in the experimental groups (PG vs SG
p
 = 0.001, DG vs SG
p
 = 0.002). No significant difference was found in BV/TV and Tb. N among the three groups at 12 weeks postoperatively.
Conclusion
Surgical induced patellectomy and patellar dislocation leads to the dysplastic trochlear sulcus in growing rats. Besides the bone morphology of trochlear sulcus, the articular cartilage and subchondral trabecula under the trochlear sulcus were remodeled early stage after the surgery.