01.04.2015 | Original Article | Ausgabe 3/2015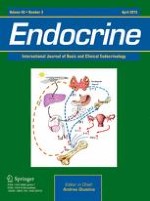 The effect of exercise on the peripheral nerve in streptozotocin (STZ)-induced diabetic rats
Zeitschrift:
Autoren:

Heung Yong Jin, Kyung Ae Lee, Tae Sun Park
Abstract
The exact effectiveness of supportive care activities, such as exercise, in diabetes patients has yet to be elucidated in the diabetic peripheral neuropathy (DPN) field. Therefore, this study was designed to investigate the effect of regular exercise on the peripheral nerves of streptozotocin-induced diabetic rats. The animals were divided as follows into six groups according to exercise combination and glucose control: Normal group, normal group with exercise (EXE), diabetic group (DM), DM group with EXE, DM + glucose control with insulin (INS), and DM + INS + EXE. Animals in the exercise groups were made to walk on a treadmill machine everyday for 30 min at a setting of 8 m/min without inclination. After 8 weeks, sensory parameters were evaluated, and after 16 weeks, biochemicals and peripheral nerves were quantified by immunohistochemistry and compared among experimental groups. The resulting data showed that fasting blood glucose levels and HbA1c levels were not influenced significantly by exercise in normal and DM groups. However, the current perception threshold and the von Frey stimulation test revealed higher thresholds in the DM + INS + EXE group than in the DM + INS group (
P
< 0.05). Significantly lower thresholds were observed in untreated DM groups (DM or DM + EXE) compared to the normal and insulin-treated DM groups (
P
< 0.05). Intra-epidermal nerve fiber density was reduced in a lesser degree in the DM + INS + EXE group than in the DM + INS group (9.8 ± 0.4 vs. 9.1 ± 0.5,
P
< 0.05). Exercise alone was not associated with a significant protective effect on the peripheral nerve in the normal or DM groups; however, a beneficial effect from exercise was observed when hyperglycemia was controlled with insulin in the DM group. These findings suggest that exercise has a potential protective effect against DPN based on the preferential effort for glucose control, although exercise alone cannot prevent peripheral nerve damage from hyperglycemia.