01.12.2010 | Ausgabe 4/2010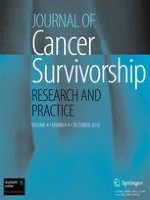 The impact of diabetes process and outcome quality measures on overall survival in patients with co-morbid colorectal cancer
Zeitschrift:
Autoren:

Elizabeth Y. Chiao, Preethi V. Nambi, Aanand D. Naik
Wichtige Hinweise
This article is the result of work supported with resources and the use of facilities at the Houston Health Services Research and Development Center of Excellence (HFP90-020), Michael E. DeBakey Veterans Affairs Medical Center and by a pilot grant from the Dan L. Duncan Cancer Center at Baylor College of Medicine, titled "Role of co-morbidity and Frailty in Older Adults Diagnosed with Colorectal Cancer." Dr. Chiao received support from the National Cancer Institute (K23CA124318) and Dr. Naik received support from the National Institute of Aging (K23AG027144) and the Doris Duke Charitable Foundation.
Abstract
Purpose
To evaluate the effect of prevalent diabetes mellitus (DM) and quality of diabetes process and outcome measures on overall survival in colorectal cancer (CRC) patients.
Patient and Methods
We conducted a retrospective cohort study among patients newly diagnosed with CRC. Kaplan-Meier analyses and Cox proportional hazard regression models were performed. Quality of diabetes process and outcomes measures in the year prior to CRC diagnosis were compared with those in the year after CRC diagnosis.
Results
Four hundred and seventy CRC patients were identified during the study period, including 122 (26%) patients with DM. Survival between diabetic and non-diabetic were not significantly different after stratifying by stage. In a multivariable model, only age (HR 1.04), stage 2 and 3 (HR 1.88), stage 4 (HR 4.26), and Deyo comorbidity score (HR 1.14) were significantly associated with increased risk of death. Overall, patients in this CRC cohort with DM had good to excellent diabetes quality of care in the year prior to diagnosis as evidenced by primary care and eye clinic visits, number of times diabetes intermediate outcomes were measured, and level of cholesterol (95.5 ± 29.74) and hemoglobin A1c (7.2% + 1.4) control. After CRC diagnosis, there was no significant change in these quality of care indices compared to the year prior.
Conclusions
Prevalent DM did not affect overall survival in this cohort of VA patients diagnosed with CRC. The quality of diabetes care prior to CRC diagnosis, which persisted after diagnosis, may have moderated the mortality effect of diabetes in this CRC cohort.