28.05.2018 | Assisted Reproduction Technologies | Ausgabe 7/2018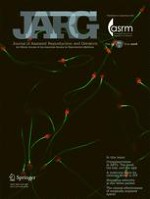 The influence of body mass index on pregnancy outcome following single-embryo transfer
Zeitschrift:
Autoren:

Avi Ben-Haroush, Ido Sirota, Lina Salman, Weon-Young Son, Togas Tulandi, Hananel Holzer, Galia Oron
Wichtige Hinweise
Avi Ben-Haroush and Ido Sirota contributed equally to this work.
Abstract
Purpose
The association between obesity and reproductive outcome is controversial. The aim of this study is to evaluate the effects of obesity on clinical pregnancy rates following transfer of a single fresh embryo.
Methods
A retrospective cohort study was conducted at a single tertiary medical center, including all first, fresh, single-embryo transfers using non-donor oocytes, during 2008–2013. We compared clinical pregnancy rate and pregnancy outcomes of singleton live births resulting from the transfer of a single fresh embryo in normal weight, overweight, and obese women, defined as body mass index (BMI) < 25 kg/m2, ≥ 25 BMI <30 kg/m2, and BMI ≥ 30 kg/m2, respectively.
Results
Overall, 1345 cases met the inclusion criteria with 864 single-embryo transfers (SETs) in normal weight women, 292 in overweight women, and 189 SETs in obese women, resulting in 538 clinical pregnancies and 354 singleton births. The clinical pregnancy rate per transfer was similar among the three groups (41.3, 37.6, 37.5%, respectively,
p
= 0.416). Similarly, there were no significant differences in live births or ongoing pregnancies. On multivariate logistic regression analysis, BMI did not impact the likelihood for clinical pregnancy (OR 0.98, 95% CI 0.96–1.008,
p
= 0.216).
Conclusions
Our study demonstrated that obesity has no detrimental effect on the clinical pregnancy rate resulting from the transfer of a single fresh embryo.