01.12.2019 | Study protocol | Ausgabe 1/2019 Open Access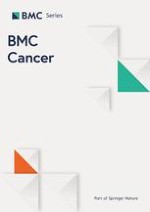 The MYRACLE protocol study: a multicentric observational prospective cohort study of patients with multiple myeloma
Zeitschrift:
Autoren:

Lina Benaniba, Benoit Tessoulin, Sabrina Trudel, Catherine Pellat-Deceunynck, Martine Amiot, Stéphane Minvielle, Pierre Antoine Gourraud, Sophie de Visme, Hervé Maisonneuve, Anne Lok, Steven Le Gouill, Philippe Moreau, Cyrille Touzeau
Wichtige Hinweise
Publisher's Note
Springer Nature remains neutral with regard to jurisdictional claims in published maps and institutional affiliations.
Abbreviations
CAR
Chimeric antigen receptors
CNRS
Centre National pour la Recherche Scientifque
CRCINA
Centre de Recherche en Cancérologie Nantes Angers
ECOG
Eastern cooperative oncology group
INSERM
Institut national de la Santé et recherché Médicale
MYRACLE
Myeloma resistance and clonal evolution
Background
Multiple myeloma (MM) accounts for 1% of all cancers and nearly 10% of hematological malignancies. The incidence in Europe is 6/100000/year with a median age at diagnosis of 72 years [
1
]. The disease is characterized by the presence of clonal plasma cells in the bone marrow, leading to anemia, hypercalcemia, renal failure and bone lesions. Major prognosis factors influencing patient outcome are serum levels of albumin, beta2microglobulin, LDH and cytogenetic abnormalities (i.e. 17p deletion and t(4;14) translocation) [
2
]. The median overall survival of patients with multiple myeloma (MM) has been dramatically improved in the past decades [
3
]. This progress is the consequence of the wide use of proteasome inhibitors (bortezomib, carfilzomib, ixazomib) and immunomodulatory drugs (thalidomide, lenalidomide and pomalidomide) [
4
]. More recently, monoclonal antibodies (daratumumab, elotuzumab) and CAR (chimeric antigen receptors) -T cells also led to improve the survival of myeloma patients and immunotherapy therefore became a new cornerstone for myeloma therapy [
5
,
6
]. However, the disease constantly relapses and is still considered as incurable. The prognosis of myeloma patients whose disease is refractory to proteasome inhibitors and immunomodulatory agents still remains very poor [
7
]. The disease course therefore consists on the alternation of period of response to therapy, disease progression during the subsequent therapies given to the patient. In MM, drug resistance can be schematically divided in two categories: primary resistance (absence of response to the drug) and acquired resistance (initial sensitivity to the drug but occurrence of resistance due to the emergence of resistant subclones) [
8
]. The Darwinian selective pressure and its underlying biological mechanisms still need to be clarified in MM. Biobanks of tumor samples collected in a standardized manner before starting therapy and at time of relapse are required to achieve this goal. Furthermore, MM therapies have an increasing impact on economy of health. The median annual cost for MM therapies increased from nearly 30,000 to 1,000,000 dollars between 2004 and 2009 in the United States of America [
9
]. It is of strategic importance to determine predictors of sensitivity to drugs in order to spare patients from unnecessary treatment but also to optimize healthcare resources. Data obtained from a real life prospective MM cohort would help to evaluate this pharmacoeconomic factors. Finally, quality of life (QoL) is an important indicator for cancer patient, both in clinical management and cost effective evaluation of therapies [
10
]. Outside clinical trials, there are few data describing the influence of different therapies on the QoL of myeloma patients.
To address all these limitations, we have developed a multicenter prospective cohort of patients with MM, the MYRACLE cohort. The present report describes the methodology used to establish this cohort. This study relies on a care and research network including the department of haematology of Nantes, the department of haematology of La Roche sur Yon and the CRCINA (Centre de Recherche en Cancérologie et Immunologie Nantes Angers) center.
Study objectives
The goals of the MYRACLE cohort are:
To provide epidemiology data on MM (incidence, temporal trends, geographical and social disparities, risk factors).

To provide real life data on therapeutic landscape of MM patients (nature of treatments, duration of response to each sequential line of treatment).

To understand the biological mechanisms associated with drug resistance and clonal evolution in MM.

To identify new therapeutic targets for the MM treatment.

To determine the impact of MM therapies on patient quality of life.

To provide prognostic scores predicting response to MM therapies.

To conduct pharmaco-economic evaluations of MM therapies.

To provide a large bone marrow and blood samples biocollection obtained from MM patients at subsequent disease period (diagnosis, reponse to treatment, disease progression).
Design
Discussion
The MYRACLE study systematically and prospectively collect integrative data (socio-economic, clinical, prognostic, imaging, treatment, quality of life) from patients diagnosed with multiple myeloma. For each patient, these data are collected before and after subsequent anti myeloma therapies. At these different time points, tumor cells from patients are collected and stored in order to perform analysis dedicated to better understand drug resistance and clonal evolution. This long-term cohort gives us a unique opportunity to integrate this large variety of data in the context of real –life myeloma care. The recruitment is expected to start by January 2019. The MYRACLE study is part of the ILIAD (Imaging and Longitudinal Investigations to Ameliorate Decision-making in MM and breast cancer) project, supported by the French institute of cancer INCA (Institut National du Cancer). This integrative cohort will give us the ability to determine biomarkers influencing response to therapy, to evaluate the impact of each therapy on clonal evolution and on major resistance factors such as apoptosis dysregulation and p53 network. The analysis of response following each line of therapy, cost and quality of life will also provide important pharmacoeconomic data. The MYRACLE cohort is also designed to facilitate collaboration with investigators, institutions, cooperative groups and pharmaceutical companies working in the MM area.
Acknowledgments
The authors thank Jeremy Bossis and Chrystelle Richard for their support to the cohort development.
Ethics approval and consent to participate
Each patient gives his written consent before inclusion in the study. The ethic committee Comité de Protection des Personnes - Tours - Région Centre - Ouest 1 gave its agreement to the study on July 31 2018 (2018 T3–11 (RC18_0197) (2018-A01578–47) (18.07.03.46219). All participating patients gave signed informed consent.
Consent for publication
Not Applicable.
Competing interests
The authors declare to have no competing interest.
Open Access
This article is distributed under the terms of the Creative Commons Attribution 4.0 International License (
http://​creativecommons.​org/​licenses/​by/​4.​0/​
), which permits unrestricted use, distribution, and reproduction in any medium, provided you give appropriate credit to the original author(s) and the source, provide a link to the Creative Commons license, and indicate if changes were made. The Creative Commons Public Domain Dedication waiver (
http://​creativecommons.​org/​publicdomain/​zero/​1.​0/​
) applies to the data made available in this article, unless otherwise stated.
Publisher's Note
Springer Nature remains neutral with regard to jurisdictional claims in published maps and institutional affiliations.