01.12.2011 | Study protocol | Ausgabe 1/2011 Open Access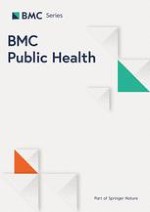 The sydney playground project: popping the bubblewrap - unleashing the power of play: a cluster randomized controlled trial of a primary school playground-based intervention aiming to increase children's physical activity and social skills
Zeitschrift:
Autoren:

Anita C Bundy, Geraldine Naughton, Paul Tranter, Shirley Wyver, Louise Baur, Wendy Schiller, Adrian Bauman, Lina Engelen, Jo Ragen, Tim Luckett, Anita Niehues, Gabrielle Stewart, Glenda Jessup, Jennie Brentnall
Wichtige Hinweise
Electronic supplementary material
The online version of this article (doi:
10.​1186/​1471-2458-11-680
) contains supplementary material, which is available to authorized users.
Competing interests
The authors declare that they have no competing interests.
Authors' contributions
ACB is the principal investigator, conceived of the study and led the study design and coordination and critically revised the manuscript. GN, PT, SW, LB, WS and AB are chief investigators and all contributed to the design of the study and critically revised the manuscript. LE is the project manager and drafted the manuscript. TL and JB contributed to the conceptualisation and design of the project. JR and AN contributed to the design of the project. GS and GJ contributed to fine-tuning of the methodology. All authors read and approved the manuscript.
Background
Disturbing numbers of children in the westernised world are overweight, bullied or have poor mental health. These are all serious childhood problems that are notoriously difficult to treat. Prevention is undoubtedly best, but their continued increase shows how difficult it is to reverse these new and dangerous trends. Burdette and Whitaker [
1
] suggested a compelling common cause for all three problems: a decrease in outdoor free play. While previous generations spent most of their discretionary time engaged in free play outdoors, today's children play indoors; their free time is often spent in sedentary and solitary activity (e.g., computers, television). Time spent outdoors is often in structured sport rather than in unstructured play that facilitates social interaction and physical activity. Physical activity promotes energy expenditure and has additional benefits such as improved cardiovascular health and gross motor skills. However, less obvious is the role of free play in children's social, emotional and cognitive development. The shift from outdoor play to indoor activities, combined with an increased push for academic achievements, potentially leave children more stressed and with poorer mental health [
1
]. Most young children love active outdoor play but parents, teachers and carers may limit this, fearing injury or misadventure.
The issues
Aims and hypotheses
The aim of the Sydney Playground Project is to demonstrate the effectiveness of a simple, cost-effective two-part intervention to increase children's physical activity, social skills and resilience by altering their experience on the school playground. The two intervention strategies are:
a.
Child-based intervention: Recycled unstructured materials are placed on the school playground with the aim of increasing physical activity and social skills through unstructured free play.
b.
Adult-based intervention: Risk reframing sessions held with parents and teachers with the aim of exploring the benefits of allowing children to engage in activities with uncertain outcomes.
Methods/Design
Overall study design
The design of this 3-year study is a cluster randomised controlled trial (CRCT) in which the participating schools are the clusters. The study consists of a 13-week intervention with baseline and post-testing (See Figure
1
). The study has been approved by the Human Research Ethics Committee at the University of Sydney and by the Catholic Education Office of the Archdiocese of Sydney.
×
Participants and recruitment
Catholic co-educational primary schools are approached to participate in the study, through emails, phone calls and on-site visits to the principal and/or assistant principal. The schools are located within a 30 km radius of the University of Sydney's Health Sciences campus at Lidcombe, near Sydney. Recruitment continues until 12 schools agree to participate.
School selection
All participating schools must agree to be randomised into the control or intervention group and refrain from engaging in other new interventions designed to increase activity levels. They continue with normal recess and physical education. There are no exclusion criteria.
Child selection
Within each school, a random sample of children is invited to participate. Children are selected using the following procedure: To maintain confidentiality, schools assign each of their Kindergarten and Year 1 students (aged 5 to 7 years) a number. Schools are then presented with a set of randomly generated numbers. School staff approach children assigned to the random numbers until 20 students and their parents consent to participate. Data are gathered on country of birth of children and parents as well as languages spoken. Families are approached only if the parents can speak and understand spoken and written English to a degree sufficient to allow them to complete the questionnaires and participate in the risk reframing intervention. Children are included regardless of known disability.
Sample size
Sample size calculation involves deciding on both the number of schools (clusters) and number of children per school. The desired number of schools provides sufficient cluster-level data for subsequent analyses but, at the same time, is manageable in terms of implementation and data collection. We have selected 12 schools (6 control, 6 intervention) to meet these criteria.
The number of children needed per school is estimated by considering the amount of change from the intervention and correcting for the possibility that children at the same school affect one another's activity levels (determined by intra-cluster correlation [ICC]) We estimated the effect size from the intervention conservatively at 0.5 standard deviations (SD) based on a report that young children engage in moderate to vigorous playground activity 26% of the time and that 40% would be a realistic health-promoting target [
57
].
With
p
= 0.05, power = 80% and an ICC of .04, we require 18 children per school to show that an effect size of 0.5 SD is significant between groups. This reflects a 68% inflation in sample size over the number that would be required if no adjustment were made for cluster effect (64 vs. 108 participants/group).
Randomisation
The 12 participating schools are randomly assigned to either the control or intervention cluster. Randomisation is performed prior to the commencement of the study by a researcher unrelated to the study; researchers are blinded to school allocation until after baseline data collection at the relevant school. The schools are informed of their allocated treatment after baseline data collection.
Interventions
Child-based intervention
Unstructured materials are introduced on the school playgrounds to be used during recess. The materials are selected to conform to seven principles: 1. no obvious play value; 2. encourage cooperative, gross motor play; 3. have multiple uses; 4. can be used in challenging, creative and uncertain ways; 5. provide interesting sensory experiences (e.g., from touch or movement); 6. inherent hazards can easily be seen/managed by a child; 7. are, or are made from, re-cycled materials. Examples of items include car tyres, milk crates, and cardboard boxes; in some cases these are reinforced or made more water resistant (e.g., by drilling tyres or covering cardboard with plastic tape). Some items, such as crash mats, are fabricated from recycled objects. All materials are checked for safety characteristics and child-proofed; all meet Australian standards for playground materials. New materials are introduced periodically to replace broken objects or to complement existing objects. Maintenance of the materials is the responsibility of researchers in collaboration with each school community but school staff must agree to remove materials that are broken or being used in unsafe ways.
This intervention runs in each intervention school over 2 terms (13 weeks total), during which time children are able to use and play freely with the items. The materials are for the use of all children at the school, independent of project consent.
Adult intervention: Risk Reframing
Teachers and parents of participating children from the intervention schools are asked to participate in a 2-hour group intervention. The adults participate in small "task groups" (
n
= 6-8) as well as large whole-group discussions (
N
= 18-24) to examine their own experiences of free play and their beliefs regarding the benefits and risks associated with active play. Discussions focus on similarities and differences of parents' and teachers' perceptions of the benefits of play, healthy (or manageable) vs. unhealthy risk and the consequences of preventing children from engaging in play and healthy risk taking. Schools are offered compensation for the time the teachers are participating in the sessions.
Control schools
The control schools participate in standard recess, and they do not have access to the unstructured materials or to risk reframing.
Outcome measures
The primary outcome measure is children's physical activity, as measured by accelerometers. The secondary outcomes include: self-concept and social skills, social interactions, after school time use and anthropometric measures. All the measurements are performed during one full school week (Table
1
).
Table 1
Outcome measures and schedule of the study
Outcome

Measure

Data collection

Dependent variable

Baseline

Post-test

BMI

Researcher with child

Height and weight

1 occasion

1 occasion

Physical Activity

Actigraph accelerometer

1

Devices worn by children

Counts, and minutes in sedentary and moderate to vigorous activity

5 days

5 days

Palm pilots responded on by parents

Activities undertaken after school

4 days

4 days

Social Interaction

Video recording

Social behaviour

15 min

15 min

Parent and teacher reports

Social skills and problem behaviour

1 occasion

1 occasion

Self-concept

Researcher with child, and teacher reports

Feelings of competence

1 occasion

1 occasion
Measurements
Physical activity during school days
Actigraph accelerometers (GT3X,
http://​www.​theactigraph.​com
) are worn on the participating children's right hip, on the iliac bone, on top of clothing and fastened with an elastic waist band. A researcher attaches the accelerometers at 9.00 AM and removes them at 3.00 PM for 5 consecutive school days. Movement is measured in three planes at 5 second epochs.
Data are downloaded from the accelerometers using the product-coupled software ActiLife and stored as .dat files to be used in subsequent analyses. To measure the level of physical activity, total accelerometer counts, as well as minutes and percent of time spent in sedentary, light, moderate and vigorous physical activities are calculated, using a custom-made macro (Stewart Trost). The cut-points for levels of physical defined by Evenson et al. [
58
] are used. Accelerometer non-wear time is defined as a count of 0 for 10 consecutive minutes [
59
].
Children's activities after school
We collect information about activities during after-school hours (between 3.30 PM and 7.00 PM) in both baseline and post-test sessions using a real-time activity diary. Responses to the activity diary are recorded at three random times for each of 4 consecutive week days. The activity diary consists of 12 questions (9 multiple choice, 3 Visual Analogue Scales [VAS]). The multiple choice questions determine who is recording the information, what the child is doing and using, who the child is with, if the television is on and whether they are indoors or outdoors. The VAS questions are used to estimate, 1) activity level, 2) frequency of movement and 3) intensity of involvement in an activity. Questionnaire items were developed from literature on children's after school activities and in conjunction with a workgroup of paediatric health care professionals, researchers working with young children, and parents of children in the relevant age group. The activities were chosen to represent activities in which 5- to 7-year-olds commonly engage during after-school hours. The aim was to create a questionnaire that could be answered in 1 to 2 minutes. Pilot testing revealed response time ranged from 0.5 to 3 minutes, with a shorter response time as respondents became increasingly familiar with the questions.
Parents record responses to diary questions on a Palm Pilot Z22 (Palm Inc., Sunnyvale, CA) loaded with Experience Sampling Program (ESP) software
http://​www.​experience-sampling.​org
. For each diary entry, the Palm emits a signal that continues for 3 minutes before the device is switched off and the entry is marked as a non-response. Once the survey commences, a 3-minute lag of non-activity is allowed to accommodate interruptions before switching off. Any questions completed prior to the non-activity are saved.
Protocol
Parents are instructed in use of the Palm in a personal meeting with the researchers or through a step-by-step instruction sheet included with the Palm pilots when they are distributed to the parents. Parents are provided with a contact number, should they encounter any problems with the devices. On the morning of first day of data collection, researchers activate the software and place the devices in the participating children's schoolbags together with the accompanying information and written instructions. After the 4 days of data collection, parents return the Palm Pilot to their child's school. Data from the Palm Pilots are downloaded onto PCs using the ESP desktop software and stored as .txt files.
Videotaping
Digital hard drive video cameras (Sony DCR-SR65,
http://​www.​sony.​com.​au
) are used together with Bluetooth wireless microphones (ECH-HW1,
http://​www.​sony.​com.​au
) to capture social interactions and what the children are doing during recess. Children are videotaped for 15 minutes during recess by an unobtrusive camera person who does not interact in any way with the children. No videotaping occurs during bad weather when the children are indoors during recess; researchers also avoid taping children during lunch or snack time. The videos are transferred to computers using the accompanying software and stored as .mpg files. After conversion to .mov files, the resulting data are coded using Studio Code (v 4.2.4,
http://​www.​studiocode.​com
). The coding scheme is developed specifically for this study and captures categories of play and non-play, as well as quantification of social interactions.
Children and Teachers' Perceptions of Competence and Social Acceptance
The Pictorial Scale of Perceived Competence and Social Acceptance for Young Children (PSPCSAYC) (Harter and Pike, 1984) [
60
] is included to assess two domains of competence (physical and academic) and two domains of acceptance (peer and maternal). Administration of the PSPCSAYC to children involves responding to four choices elicited by presenting paired pictorial items featuring children who are skilled or less skilled in a particular domain and asking who the child is most like. Further probing occurs to see if they see themselves as a lot like the child or just a little. The questions are devised to guard against generation of socially desirable responses.
The teacher rating scale involves a description of specific skills in each domain, with the exception of maternal acceptance. Teachers respond using a 4-point scale. The PSPCSAYC is widely used. For example, the original article describing the scale has 374 citations in Scopus (21 July, 2011).
Social Skills Improvement System - social skills
The Social Skills Improvement System Rating Scales (SSIS-RS) [
61
] are a revision of the widely used Social Skills Rating System (SSRS) [
62
]. For children below 8 years of age, parent and teacher reports of behaviours, using a 4-point scale, are used to assess Social Skills (i.e., communication, cooperation, assertion, responsibility, empathy, engagement, and self-control); and Problem Behaviours (i.e., externalizing, bullying, hyperactivity/inattention, internalizing, and autism spectrum).Teacher reports also includes an Academic Competence subscale. The SSIS-RS has been specifically designed for pre- and post-intervention assessment. Significant re-norming was conducted in the revision from the SSRS [
62
]. Protocols described in the SSIS-RS manual, such as ensuring the rater has known the child for at least 2 months, are followed. Parents of the children are provided with feedback on their child's score and in cases of extreme scores, are offered follow-up with the psychologist on this project. The completion time is 10 to 25 minutes per form. Compensation of teachers' time is offered by paying the schools for relief teaching staff. Scores are entered manually into the SSIS Assist software
http://​www.​pearsonpsychcorp​.​com.​au
.
Anthropometry
Height and weight are measured using standard procedures. Height is measured to the nearest 0.1 cm using a portable stadiometer. Weight is measured to the nearest 0.1 kg using digital scales; children will wear school uniform (shoes removed).
Tolerance of Risk in Play Scale (TRiPS)
We are developing and testing the validity and reliability of data gathered with an instrument to examine adults' tolerances of risk during children's play. The scale is based on a Norwegian model of risky play [
63
]. We will collect data from 100 parents and teachers of children aged 3 to 13 years.
Qualitative data
Qualitative data in the form of audio recordings of risk reframing sessions, brief, written participant evaluations, and in-depth interviews with selected teacher and parent volunteers are gathered to understand some of the experiences and observations of the adults participating in the study.
Data analysis
Primary outcomes (activity levels) will be analysed using intention-to-treat principles. The effectiveness of the intervention for increasing activity, changing social skills and after school activities will be measured at both cluster and individual levels. Mixed-effects multi-level regression (STATA/IC 12,
http://​www.​stata.​com
), taking clustering and repeated measurement of participants into account, will be used to examine net change from baseline values between groups. At the individual level, multivariate regression will be used to examine the contributions of activity level to changes in self-concept and social skills between groups. Secondary analyses will be conducted to explore subgroup effects (e.g., by sex). In addition, the contribution of potential confounders such as BMI will be explored.
Data from the audio recordings of the risk reframing sessions, parent interviews and field notes kept by project staff will be transcribed either in their entirety or as brief written reports. The resulting qualitative data will be converted to text to be analysed according to an adaptation of Charmaz's [
64
] approach to social analysis. Initial emergent themes will be identified and data coded for patterns and complexity regarding participants' experiences, actions, beliefs or relationships to risk, assumptions regarding risk, the larger process of which this action or belief is a part, and possible implications of such actions or beliefs for particular actors, institutional forms, parents, families, or children.
Process evaluation
During and after each round of data collection, the process is evaluated and the methods of data collection and communication are reassessed to monitor fidelity to the treatment. Teachers' and administrators' perceptions and attitudes are assessed by survey and informal interviews. Photos, videos and onsite observations of the school playgrounds are used to monitor and evaluate the progression of the use of unstructured materials.
Discussion
Children's obesity, bullying and poor social skills represent a challenge to their mental and physical health. These three are often inter-related, but can be reversed. Many programs aiming at increasing physical activity have been implemented in the last decades, but most of them fail to have the potential to be adopted everywhere anywhere, due to structure, cost and lack of appeal to some children. This project is novel in investigating the benefits of free play on the playground for increasing physical activity and social skills in children and challenging adults to consider how their perceptions of risk may impact children's access to active free play. Due to its scope and potential to be adopted anywhere, if we have positive findings, this project has the prospect to influence policy around school-, and public playgrounds.
Acknowledgements and Funding
This project has received funding for three years from the Australian Research Council (DP0877590) as well as from the Australian National Health and Medical Research Council (570808).
This article is published under license to BioMed Central Ltd. This is an Open Access article distributed under the terms of the Creative Commons Attribution License (
http://​creativecommons.​org/​licenses/​by/​2.​0
), which permits unrestricted use, distribution, and reproduction in any medium, provided the original work is properly cited.
Competing interests
The authors declare that they have no competing interests.
Authors' contributions
ACB is the principal investigator, conceived of the study and led the study design and coordination and critically revised the manuscript. GN, PT, SW, LB, WS and AB are chief investigators and all contributed to the design of the study and critically revised the manuscript. LE is the project manager and drafted the manuscript. TL and JB contributed to the conceptualisation and design of the project. JR and AN contributed to the design of the project. GS and GJ contributed to fine-tuning of the methodology. All authors read and approved the manuscript.