01.12.2017 | Research | Ausgabe 1/2017 Open Access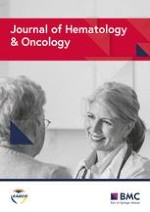 Thrombospondin-2 promotes prostate cancer bone metastasis by the up-regulation of matrix metalloproteinase-2 through down-regulating miR-376c expression
Zeitschrift:
Autoren:

Po-Chun Chen, Chih-Hsin Tang, Liang-Wei Lin, Chun-Hao Tsai, Cheng-Ying Chu, Tien-Huang Lin, Yuan-Li Huang
Wichtige Hinweise
Electronic supplementary material
The online version of this article (doi:
10.​1186/​s13045-017-0390-6
) contains supplementary material, which is available to authorized users.
Abbreviations
3′UTR
The 3′ untranslated region
IVIS
The in vivo imaging system
Background
Methods
Reagents
Recombinant human TSP-2 was purchased from R&D Systems (Minneapolis, MN, USA). The anti-rabbit TSP-2 was obtained from Abnova (Taipei, Taiwan); anti-rabbit p38, anti-mouse p-ERK, ERK, p-JNK, and p-p38 were obtained from Santa Cruz (CA, USA); anti-mouse MMP-2 was from R&D Systems (MN, USA). The inhibitors for p38 (SB203580), ERK (U0126), JNK (SP600125), and MMP-2 (MMP-2 inhibitor I) were purchased from Calbiochem (San Diego, CA, USA). The inhibitors for integrin α
4
β
1
(sulfo-
N
-succinimidyl oleate (SSO)), CD36 (BIO1221), integrin α
v
β
3
(RGD), and the control peptide (RAD) were purchased from Torcis Bioscience (Ellisville, MO, USA). The Luciferase assay kit was purchased from Promega (Madison, WI, USA). TSP-2 shRNA plasmids were purchased from National RNAi Core Facility Platform (Taipei, Taiwan). The TSP-2 shRNA oligo sequences were 5′-CCGGCCCTCCTAAGACAAGGAACATCTCGAGATGTTCCTTGTCTTAGGAGGGTTTTTG-3′ which target to the sequence of TSP-2 is 5′-CCCTCCTAAGACAAGGAACAT-3′. MiR-376c mimic was purchased from Invitrogen (Carlsbad, CA, USA). All other chemicals were purchased from Sigma-Aldrich (St. Louis, MO, USA).
Microarray data
The TSP-2 gene expression profile data was retrieved from the GEO database (
http://​www.​ncbi.​nlm.​nih.​gov/​geo/​
). A total of 182 normal prostate tissues, as well as benign, primary, and metastatic prostate tumors were obtained from the microarray data with the following accession numbers: GDS1439 and GDS2545. The TSP-2 gene expression profiles were retrieved from GEO data analysis tools. Further analysis of TSP-2 gene expression between normal, primary tumor, and metastatic tumor were examined by one-way ANOVA with Bonferroni's multiple comparisons test and
p
value ≤0.05 showed significance.
Cell culture
Human PCa cell lines (PC-3 and DU145) and human normal prostate epithelial cell lines (PZ-HPV7) were obtained from the American Type Culture Collection (ATCC). PC-3 and DU145 cells were grown in RPMI-1640 medium supplemented with 20 mM HEPES, 10% heat-inactivated fetal calf serum, 2 mM glutamine, 100 U/ml penicillin, and 100 μg/ml streptomycin. PZ-HPV7 cells were grown in keratinocyte-SFM, containing bovine pituitary extract and recombinant epidermal growth factor. All cells were maintained in a humidified incubator at 37 °C, 5% CO 2.
Transwell assay
The migration assay was performed using the transwell plates (Costar, NY, USA). The invasion assay was performed using the same transwell plate except for coating Corning® Matrigel® Matrix (Corning, NY, USA) in the lower chamber. Selection of invasive prostate cancer cells (PC-3-I3 and DU145-I5) was performed by using transwell invasion assay as described previously [
26
]. Briefly, the transwell inserts were coated with Matrigel, prostate cancer cells were resuspended in 1% FBS containing media and seeded into the wells in the upper layer, with the lower layer supplied with 10% FBS containing media. After 48 h, the inserts were removed, and cells that had migrated through the membranes and become attached to the lower chamber compartments were trypsinized and expanded for second-round selection. The PC-3-I3 and DU145-I5 invasive prostate cancer cells were established after 3 and 5 rounds of selection, respectively.
Small interfering RNA (siRNA) transfection
Cells were transfected with siRNAs according to manufacturers' recommendations on standard procedure [
26
,
27
]. The siRNAs (ON-TARGETplus SMARTpool) were purchased from GE Dharmacon (Lafayette, CO, USA). Cells were transfected with siRNA using Lipofectamine 2000 reagent. The mRNA knockdown efficiency was confirmed by real-time PCR as described in the following sections.
Reverse transcription (RT) and real-time PCR
Total RNA was extracted from PCa cells using a TRIzol kit as described previously [
26
]. Briefly, the reverse transcription reaction was performed using the oligo (dT) primer. Real-time PCR analysis was carried out using SYBR with sequence-specific primers. The GAPDH mRNA expression was used as an internal control.
For miRNA detection, reverse transcription was performed using Mir-X™ miRNA First-Strand Synthesis and SYBR® RT-PCR with the specific forward primer of miR-376c (5′-AACATAGAGGAAATTCCACGT-3′). The U6 snRNA was used for normalization. The threshold was set above the non-template control background and within the linear phase of target gene amplification to calculate the cycle number at which the transcript was detected (denoted as CT).
Immunoblotting assay
Protein was isolated from PCa cells, and its concentration was then determined as described previously [
27
]. Proteins were resolved by SDS-PAGE and transferred to Immobilon polyvinylidene fluoride membranes. After incubation with primary and secondary antibodies, the membranes were visualized by enhanced chemiluminescence using Kodak X-OMAT LS film.
Zymography analysis
The supernatants of the indicated condition of cells were mixed with sample buffer without reducing agent and heating. The sample was performed with SDS-PAGE containing gelatin (1 mg/ml). Afterwards, the gel was washed with 2.5% Triton X-100 to remove SDS, rinsed with 50 mM Tris–HCl, pH 7.5, and then incubated overnight at room temperature with the developing buffer (50 mM Tris–HCl, pH 7.5, 5 mM CaCl 2, 1 μM ZnCl 2, 0.02% thimerosal, 1% Triton X-100). The zymographic activities were revealed by staining with 1% Coomassie blue. The same samples were performed with SDS-PAGE without gelatin and staining with 1% Coomassie blue as loading control.
Immunohistochemical (IHC) staining
The protein expression was determined on tissue slides using IHC staining as described previously [
26
]. Human PCa tissue array (T195b and PR956) was purchased from Biomax (MD, USA) in the form of 5 μm sections of paraffin-embedded tissue on glass slides. The tissue slides were incubated with human TSP-2 and MMP-2 antibodies, followed by counterstaining with hematoxylin.
Plasmid construction and luciferase activity assay
The 3′UTRs of the human MMP-2 gene were amplified by PCR using the following primer: Forward primer, 5′-GAGTTTAAACCCTCTTTAAGTCTGTTTCTTC-3′, Reverse primer, 5′-GCGCTAGCCAACTAATAATGGCCTTTTT-3′. The 3′UTRs of MMP-2 were cloned downstream of the reporter gene in the pGL2-Control vector. The predicted MMP-2 binding site for miRNA was identified by the miRDB (
http://​mirdb.​org/​miRDB
). Mutant plasmids that attenuate the interaction between MMP-2 3′UTR and miRNA were generated using a QuikChange Site-Directed Mutagenesis kit (Stratagene, Cedar Creek, TX, USA). Mutagenesis of miR-376c targeting seed region of MMP-2 3′UTR were amplified by PCR using the following primers: Forward primer, 5′-CAATTAATAGAGTGCTTTCTGGGTGCAAGGCACTTTTCACG-3, Reverse primer, 5′-CGTGAAAAGTGCCTTGCACCCAGAAAGCACTCTATTAATTG′-3". These plasmids with 3′UTR of MMP-2 and β-galactosidase as control were transfected into cells using lipofectamine 2000. Following transfection, these cells were incubated with the indicated agents. Cell extracts were prepared and used for measuring the luciferase and β-galactosidase activities as the manufacturer's recommendations. Activities of luciferase and β-galactosidase were then measured by Luciferase Assay System (Promega, WI, USA).
In vivo metastasis model
PC-3 constitutively expressed pLenti CMV V5-Luc cells were transfected with TSP-2 shRNA plasmids and selected by puromycin. PC-3 stable cells (2 × 10 6) which containing control vector or TSP-2 shRNA-expressing vector were intratibially injected with 200 μl Matrigel into the right tibia of nude mice (4-week old). Bone metastasis was monitored using an in vivo imaging system (Xenogen IVIS imaging system). The mice were humanely sacrificed after 4 weeks. The tumor mass was removed from the right tibia bone to detect its weight.
Microcomputed tomography (micro-CT) analysis
After the mice were sacrificed, the tibia of tumor growth were dissected and fixed in 4% paraformaldehyde for micro-CT analysis. The tibia for micro-CT scanning was assessed by using a micro-CT scanner (Skyscan 1176; Bruker, Kontich, Belgium). Reconstruction of sections was carried out with GPU-based scanner software (NRecon, Bruker). In addition, the grayscale was based on the Hounsfield unit, and the validated calcium standards were scanned as the density reference. The three-dimensional microstructural volumes from the micro-CT scans were analyzed using Skyscan software (CTAn, Bruker). Bone volume was used to assess the bone resorption area of the bone metastasis.
Meta-analyses of microarray datasets from The Cancer Genome Atlas (TCGA) database
The 499 prostate adenocarcinoma datasets were retrieved from the TCGA. The datasets included mRNA, microRNA expression levels, and clinical data. Total 50 paired adjacent normal and tumor specimens were used to analyze expression level of TSP-2 and miR-376c. The paired
t
test was performed, and
p
value ≤0.05 showed significance. The TSP-2 and MMP-2 expression levels were correlated with Gleason score of the tumor specimens. The one-way ANOVA with Bonferroni's multiple comparisons test was performed, and
p
value ≤0.05 showed significance. The correlation between TSP-2 and MMP-2 was analyzed by all mRNA sequencing results in the dataset.
Statistical analysis
All data presented as mean ± standard error of the mean (SEM). Statistical analysis between the two samples was performed using the Student
t
test.
p
 < 0.05 was considered significant.
Results
Discussion
To understand the physiological role of TSP-2 in vivo, we established a PC-3 cells with stably knockdown of its TSP-2 (PC-3/shTSP-2-Luc). We found that the expression of MMP-2, as well as the abilities of migration and invasion was significantly reduced in PC-3/shTSP-2-Luc cells, whereas its miR-376c is higher than normal PC-3/Luc cells. Through monitoring by bioluminescence imaging, we showed that the knockdown of TSP-2 dramatically suppresses bone metastasis and osteolytic abilities of prostate tumor. Interestingly, the tumor with PC-3/shTSP-2-Luc is smaller than that with PC-3/Luc, although the cell proliferation rates between these cells are almost the same. We considered that TSP-2 might regulate osteoclastogenesis and bone remodeling in vivo. This issue needs further investigation in the future.
Conclusions
In recent years, numerous studies have been addressed to show the role of TSP-2 in tumor progression as an anti-angiogenesis by inhibiting cell migration. However, the role of TSP-2 in PCa has not been examined in detail. Here, we showed for the first time that TSP-2 plays a positive role in PCa progression. It promotes cell migration in vitro and in vivo. We also showed that TSP-2 promotes metastasis by down-regulation of miR-376c through the MAPK signaling pathway (Fig.
8f
). This result demonstrates that TSP-2 may represent a promising new target for treating PCa.
Acknowledgements
Our gratitude goes to Michael Burton, Asia University for the English editing.
Funding
This work was supported by grants from the Ministry of Science and Technology of Taiwan (MOST 103-2320-B-468-003; MOST 104-2311-B-468-001); Asia University-China Medical University Hospital (ASIA104-CMUH-13); Asia University-China Medical University (CMU105-ASIA-20).
Availability of data and materials
The dataset supporting the conclusions of this article is included within the article.
Authors' contributions
YL Huang and CH Tang participated in the conception and design of the experiments. PC Chen, LW Lin, and YH Huang performed the experiments. TH Lin provided human samples analyzed in the study. PC Chen, LW Lin, and YL Huang developed methodology. PC Chen, LW Lin, CY Chu, and YH Huang were involved in data acquisition. CH Tang and YL Huang analyzed and interpreted data. YL Huang wrote, reviewed, and/or revised the manuscript. All authors read and approved the final manuscript.
Competing interests
The authors declare that they have no competing interests.
Consent for publication
Not applicable.
Ethics approval and consent to participate
The experimental protocol was reviewed and approved by the Institutional Animal Care and Use Committee of the China Medical University (IACUC approval no. 2016-155 to CHT). All experimental procedures were approved by the China Medical University Institutional Animal Care and Use Committee. All mice were maintained under specific pathogen-free environment in the animal research center of China Medical University, and all experiments were performed in accordance with relevant guidelines and regulations for animal care and use.
Open Access
This article is distributed under the terms of the Creative Commons Attribution 4.0 International License (
http://​creativecommons.​org/​licenses/​by/​4.​0/​
), which permits unrestricted use, distribution, and reproduction in any medium, provided you give appropriate credit to the original author(s) and the source, provide a link to the Creative Commons license, and indicate if changes were made. The Creative Commons Public Domain Dedication waiver (
http://​creativecommons.​org/​publicdomain/​zero/​1.​0/​
) applies to the data made available in this article, unless otherwise stated.