01.11.2018 | Lipids (E. Michos, Section Editor) | Ausgabe 11/2018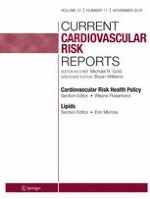 Time to Make a Change: Assessing LDL-C Accurately in the Era of Modern Pharmacotherapeutics and Precision Medicine
Zeitschrift:
Autoren:

Vincent A. Pallazola, Renato Quispe, Mohamed B. Elshazly, Rachit Vakil, Vasanth Sathiyakumar, Steven R. Jones, Seth S. Martin
Wichtige Hinweise
This article is part of Topical Collection on
Lipids
Abstract
Purpose of Review
The Friedewald equation for estimation of low-density lipoprotein cholesterol (LDL-C) was published in 1972 as an alternative to direct assessment by preparative ultracentrifugation. In this equation, very low-density lipoprotein is estimated by dividing triglycerides by a fixed factor (5 in mg/dL or 2.2 in mmol/L) and subtracting this term from non-high-density lipoprotein cholesterol (non-HDL-C). This method was derived in fasting samples from a small cohort of patients with primarily genetic dyslipidemias followed at the NIH. The method served well as the global standard for LDL-C estimation for decades, but is not well suited to modern clinical practice because it tends to underestimate LDL-C at low LDL-C and high triglyceride levels. The concern is that underestimation could lead to undertreatment in high-risk patients.
Recent Findings
Derived from big data and now validated around the world, a novel LDL-C equation created at Johns Hopkins replaces the fixed factor seen in the classic equation with a patient-specific variable based on triglyceride and non-HDL-C levels.
Summary
Given its superior accuracy in fasting and non-fasting populations alike, the novel equation is now the preferred method for LDL-C estimation and is being incorporated by leading clinical laboratories.