01.12.2014 | Research | Ausgabe 1/2014 Open Access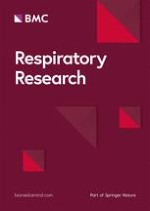 Tiotropium Respimat® in asthma: a double-blind, randomised, dose-ranging study in adult patients with moderate asthma
Zeitschrift:
Autoren:

Kai-Michael Beeh, Petra Moroni-Zentgraf, Othmar Ablinger, Zuzana Hollaenderova, Anna Unseld, Michael Engel, Stephanie Korn
Wichtige Hinweise
Electronic supplementary material
The online version of this article (doi:
10.​1186/​1465-9921-15-61
) contains supplementary material, which is available to authorized users.
Competing interests
KMB has received compensation for organising or participating in advisory boards for Almirall Hermal, AstraZeneca, Boehringer Ingelheim, Cytos, Chiesi, Mundipharma, Novartis and Revotar Biopharmaceuticals, and in the past 3 years has participated as a speaker in scientific meetings or courses supported by Almirall Hermal, AstraZeneca, Boehringer Ingelheim, Novartis, Pfizer and Takeda. KMB has also received consulting fees from Ablynx, Apellis Pharmaceuticals, Chiesi and Cytos. The institution where KMB is employed has received compensation for the design, performance or participation in single- or multicentre clinical trials in the past 3 years from several companies, including Almirall, Boehringer Ingelheim, Cytos, GlaxoSmithKline, Mundipharma, Novartis, Pfizer, Revotar Biopharmaceuticals, Sterna AG and TEVA.
SK has received reimbursement for attending scientific conferences and fees for speaking or consulting from AstraZeneca, Boehringer Ingelheim, Chiesi, GlaxoSmithKline, MSD, Novartis and Nycomed. PMZ, AU, ZH and ME are employees of Boehringer Ingelheim. OA has received reimbursement for speaking from Boehringer Ingelheim, GlaxoSmithKline and Menarini.
Authors' contributions
KMB was the international coordinating investigator of the trial, contributed to the design of the study, recruited patients to the trial and contributed to the interpretation of data. PMZ, ME, ZH and AU each contributed to the study design, implementation, management and data analysis. SK and OA contributed to acquisition and interpretation of the data. All authors revised the article critically for intellectual content. All authors provided final approval of the article prior to submission.
Abstract
Background
Tiotropium, a once-daily long-acting anticholinergic bronchodilator, when administered via Respimat® SoftMist™ inhaler (tiotropium Respimat®) significantly reduces the risk of severe exacerbations and improves lung function in patients with severe persistent asthma that is not fully controlled despite using inhaled corticosteroids (ICS) and long-acting β2-agonists. To further explore the dose–response curve in asthma, we investigated the efficacy and safety of three different doses of tiotropium Respimat® as add-on to ICS in symptomatic patients with moderate persistent asthma.
Methods
In this randomised, double-blind, placebo-controlled, four-way crossover study, patients were randomised to tiotropium Respimat® 5 μg, 2.5 μg or 1.25 μg or placebo Respimat®, once daily in the evening. Each treatment was administered for 4 weeks, without washout between treatment periods. Eligibility criteria included ≥60% and ≤90% of predicted normal forced expiratory volume in 1 second (FEV1) and seven-question Asthma Control Questionnaire mean score of ≥1.5. Patients were required to continue maintenance treatment with stable medium-dose ICS for at least 4 weeks prior to and during the treatment period. Long-acting β2-agonists were not permitted during the treatment phase. The primary efficacy end point was peak FEV1 measured within 3 hours after dosing (peak FEV1(0-3h)) at the end of each 4-week period, analysed as a response (change from study baseline).
Results
In total, 149 patients were randomised and 141 completed the study. Statistically significant improvements in peak FEV1(0-3h) response were observed with each tiotropium Respimat® dose versus placebo (all P < 0.0001). The largest difference from placebo was with tiotropium Respimat® 5 μg (188 mL). Trough FEV1 and FEV1 area under the curve (AUC)(0-3h) responses were greater with each tiotropium Respimat® dose than with placebo (all P < 0.0001), and both were greatest with 5 μg. Peak forced vital capacity (FVC)(0-3h), trough FVC and FVC AUC(0-3h) responses, versus placebo, were greatest with tiotropium Respimat® 5 μg (P < 0.0001, P = 0.0012 and P < 0.0001, respectively). Incidence of adverse events was comparable between placebo and all tiotropium Respimat® groups.
Conclusions
Once-daily tiotropium Respimat® add-on to medium-dose ICS improves lung function in symptomatic patients with moderate asthma. Overall, improvements were largest with tiotropium Respimat® 5 μg.