01.12.2018 | Research article | Ausgabe 1/2018 Open Access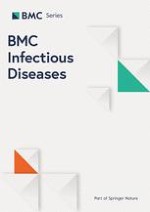 Transmission of measles among healthcare Workers in Hospital W, Xinjiang Autonomous Region, China, 2016
Zeitschrift:
Autoren:

Haimei Jia, Chao Ma, Mengting Lu, Jianping Fu, Lance E. Rodewald, Qiru Su, Huaqin Wang, Lixin Hao
Abstract
Background
As China approaches the elimination of measles, outbreaks of measles continue to occur. Healthcare workers (HCWs) are known to be at high risk of infection and transmission of measles virus. A measles outbreak occurred in a hospital in Xinjiang Uighur Autonomous Region of the People's Republic of China. We report an investigation of this outbreak and its implications for measles elimination and outbreak preparedness.
Methods
We conducted a retrospective search for measles cases using hospital records. Information on cases was collected by interview, and was used to determine epidemiological linkages. We surveyed HCWs to determine their demographic characteristics, disease history and vaccination status, and knowledge about measles.
Results
We identified 19 cases, ages 18 to 45 years, in Hospital W between December 2015 and January 2016; 14 were laboratory-confirmed, and 5 were epidemiologically linked. The primary case was a 25-year-old neurology department nurse who developed a rash on 22 December 2015 that was reported on 11 January 2016. She continued working and living with her workmates in a dormitory during her measles transmission period. Among the 19 infected HCWs, 2 had received a dose of measles-containing vaccine (MCV) before the outbreak, and 16 had unknown vaccination status. Outbreak response immunization activities were started on 8 January in a non-selective manner by offering vaccine regardless of vaccination history; 605(68%) of 890 HCWs were vaccinated. The HCW survey had a 73% response rate (646/890); 41% of HCWs reported that they had received MCV before outbreak, and 56% exhibited good knowledge of measles symptoms, transmission, complications, and vaccination.
Conclusions
Low MCV coverage, low measles knowledge among HCWs, delayed reporting of measles cases, and absence of proper case management were associated with this outbreak. Training and vaccinating HCWs against measles are essential activities to prevent measles virus transmission among HCWs.