01.12.2017 | Research | Ausgabe 1/2017 Open Access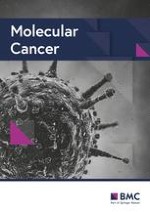 Tumor-derived CXCL5 promotes human colorectal cancer metastasis through activation of the ERK/Elk-1/Snail and AKT/GSK3β/β-catenin pathways
Zeitschrift:
Autoren:

Jingkun Zhao, Baochi Ou, Dingpei Han, Puxiongzhi Wang, Yaping Zong, Congcong Zhu, Di Liu, Minhua Zheng, Jing Sun, Hao Feng, Aiguo Lu
Wichtige Hinweise
Electronic supplementary material
The online version of this article (doi:
10.​1186/​s12943-017-0629-4
) contains supplementary material, which is available to authorized users.
Abbreviations
EMT
Epithelial mesenchymal transition
GFP
Green fluorescence protein
Background
Colorectal cancer (CRC) is one of the most common cancers worldwide [
1
]. Although many breakthroughs in the diagnosis and treatment of CRC have been made over the past few decades, CRC-related mortality remains high [
2
]. As the major cause of death for most cancer patients, tumor metastasis is an important adverse factor in the treatment and prognosis of CRC patients [
3
]. Tumor metastasis is a complicated and multistep process which requires the ability of the tumor to migrate and invade [
4
,
5
]. Despite an increase in our understanding of cell biology and the identification of many metastasis-related molecules [
6
], the chemokine-related alterations in the tumor microenvironment that promote CRC metastasis remain largely unknown.
Chemokines are a multifunctional superfamily of small proteins that bind to G protein-coupled receptors on target cells. CXCL5 belongs to a subset of CXC chemokines and functions as the ligand for CXCR2 [
7
]. By binding to CXCR2, CXCL5 mediates various cellular behaviors including neutrophil trafficking, tumor cell migration and invasion [
8
]. Recent studies have reported that TNF-α-induced mesenchymal stromal cells (MSCs) can secrete CXCL5 to recruit CXCR2+ neutrophils that promote breast cancer metastasis [
9
]. These findings indicate that CXCL5 can act as a protumoral molecule in a paracrine way through recruiting immune cells. However, the mechanisms underlying the role of CXCL5 on CRC remain unknown.
In our study, we examined the expression of several chemokines in CRC tissues and found that CXCL5 was highly expressed in CRC tissues. In addition, we investigated the influence of CXCL5 on the survival of CRC patients and showed that CXCL5 levels were negatively correlated with prognosis. Furthermore, we also revealed that CXCL5 secreted by tumor cells was able to promote CRC migration through ERK/Elk-1/Snail-mediated EMT (Epithelial mesenchymal transition) and invasion via the AKT/GSK3β/β-catenin/MMP7 pathway in a CXCR2-dependent manner. Our study conclusively demonstrates that the overexpression of CXCL5 in CRC is able to promote CRC metastasis and predicts a poor outcome in patients with CRC, indicating that CXCL5 may serve as a potential therapeutic target.
Results
Discussion
Conclusion
In conclusion, our results indicate that CXCL5 is over-expressed in CRC, which is predictive of a poor prognosis for CRC patients. We also demonstrate a novel role for CXCL5 in the induction of EMT and promotion of CRC cell migration through the ERK/Elk-1/Snail pathway in a CXCR2-dependent manner. Furthermore, we reveal that CXCL5/CXCR2 can potentiate CRC cell invasion via the AKT/GSK3β/β-catenin/MMP7 pathway rather than the ERK pathway. Thus, inhibition of the CXCL5/CXCR2 signaling pathway may be a promising target for therapies for CRC patients.
Methods
Chemokine microarray analysis
The profiles of chemokines were examined using a Human Chemokine Antibody Array C1 kit (RayBiotech, USA). This experiment was performed according to the manufacturer's instructions and supported by the BioTNT Corporation, Shanghai. The levels of certain chemokines in the tumor tissues were more than 2.0-fold higher, which we defined as "significant upregulation". We also defined a 1.5- to 2.0-fold change as "insignificant upregulation", a 0.67- to 1.5-fold change as "no difference", a 0.5- to 0.67-fold change as "nonsignificant downregulation", and a less than 0.5 change as "significant downregulation".
Patients and follow-up
Two independent cohorts of colorectal cancer patients are enrolled in our study. All these patients were diagnosed specifically by pathology as CRC (before or after surgery) and treated with laparoscopic surgery in Minimally Invasive Surgery Centre, Ruijin Hospital, Shanghai Jiaotong University. Ethics approval for use of human specimen was obtained from the Biomedical Ethics Committee of Ruijin Hospital. All the tumor tissues and paired peritumoral normal tissues contained in Cohort 1 were collected from patients undergoing operation between Nov.2015 and Mar.2016. Tissues of Cohort 2 were collected from patients undergoing operation from 2010 to 2011. Clinical and pathological data were collected. All the patients who had received preoperative treatment such as radiation or chemotherapy were excluded. Pathological staging of CRC tumor was performed in accordance to the TNM classification [
39
]. The follow-up data were acquired at 2-month intervals through outpatient visits, telephone calls, or office visits. The follow-up data were ceased in August 2015.
Cell lines
The human CRC cell lines used in our study were purchased from the American Type Culture Collection (ATCC, USA) and preserved in liquid nitrogen by the Shanghai Digestive Surgery Institute and routinely tested for mycoplasma contamination using PCR. These cell lines were authenticated prior to being used in our study. The SW480 cell line was cultured using Leibovitz's L-15 medium, and the HCT116 cell line was cultured using McCoy's 5A medium with 10% FBS, penicillin (10 7 U/L), and streptomycin (10 mg/L) at 37 °C with 5% CO 2 in an incubator.
Liver metastasis in in vivo nude mouse models
Animal experiments were performed in accordance with the ethical guidelines issued by the Ethics Committee of Shanghai Jiaotong University. Male BALB/c nu/nu mice (4 weeks old) were purchased from the Chinese Academy of Sciences, Shanghai and raised in a specific-pathogen-free environment. For the construction of the liver metastasis model, 6 nude mice were included in each group (HCT116 CXCL5, HCT116 shCXCR2, HCT116 CXCL5-shCXCR2 and HCT116 vector groups as well as SW480 shCXCL5, SW480 shCXCR2, and SW480 shCXCL5-shCXCR2, and SW480 shRNA groups were injected into the spleens of the mice). After being anesthetized with an intraperitoneal injection of 1% pentobarbital sodium (50 mg/kg), abdominal surgeries were performed to expose the spleen and slowly inject it with 1×10 7 cells suspended in 150 μL PBS. The spleen was then returned to the abdominal cavity, and the abdomen was closed. The cells were then transported by the circulatory system to the liver to spontaneously form metastatic lesions. The mice were euthanized by cervical decapitation 6 weeks after injection to examine the liver metastases of tumor cells. Liver metastases were confirmed by HE staining.
Statistical analysis
All of the statistical analysis were performed using SAS 8.0, SPSS 16.0 or R software 3.1.2 (R Core Team). The Pearson
χ
2
test and Fisher's exact probability method were used to analyze the relationship between CXCL5 and clinical features. Overall Survival and Disease Free Survival curves were plotted using the Kaplan-Meier method, and differences between the two groups were determined using a log-rank test. Univariate and multivariate analyses were performed using the Cox regression model. A nomogram was formulated based on the results of the multivariate analysis and plotted using R software. All experiments were performed in triplicate.
P
 < 0.05 was considered to be statistically significant.
Acknowledgements
The authors would like to thank Wolfgang. E. Thasler and Tobias. S. Schiergens (General, Visceral, Transplantation, and Vascular Thoracic Surgery Hospital of University of LMU Munich) for their excellent theoretical and technical assistance. We are very grateful to Cellular and Molecular Biological Institute of Shanghai Jiaotong Univeristy School of Medicine for their technical assistance of confocal microscope. This work was supported in part by a grant from CSC (China Scholarship Council, 201506230091).
Funding
This study was supported by Shanghai National Science Foundation (16ZR1421300), Biomedical Engineering Cross Foundation of Shanghai Jiaotong University (YG2013MS32), Ph.D. Innovation Fund of Shanghai Jiaotong University School of Medicine (BXJ201616). Our study and Jingkun Zhao as an exchange student in Munich University were also supported by a Ph.D. scholarship from China Scholarship Council (CSC, 201506230091).
Availability of data and materials
The datasets supporting the conclusions of this article are included within the article and its additional files.
Authors' contributions
Conception and design: JZ, JS, HF, AL. Development of methodology: JZ, BO, JS. Acquisition of data (provided animals, acquired and managed patients, provided facilities, etc.): JZ, BO, DH, PW, MZ, HF. Analysis and interpretation of data (e.g., statistical analysis, biostatistics, computational analysis): JZ, BO, CZ, DL, MZ, AL. Writing, review, and/or revision of the manuscript: JZ, JS. Administrative, technical, or material support (i.e., reporting or organizing data, constructing databases): JZ, BO, PW. Study supervision: HF, AL. Revision director: YZ. All authors read and approved the final manuscript.
Competing interests
The authors declare that they have no competing interests.
Consent for publication
Not applicable.
Ethics approval and consent to participate
All the experiments involving in human specimens and animals were in accordance with the ethical code and recommendation issued by Ethics Committee of Human Experimentation and Chinese Animal Community and with the Helsinki Declaration of 1975, as revised in 2008.
Publisher's Note
Springer Nature remains neutral with regard to jurisdictional claims in published maps and institutional affiliations.
Open Access
This article is distributed under the terms of the Creative Commons Attribution 4.0 International License (
http://​creativecommons.​org/​licenses/​by/​4.​0/​
), which permits unrestricted use, distribution, and reproduction in any medium, provided you give appropriate credit to the original author(s) and the source, provide a link to the Creative Commons license, and indicate if changes were made. The Creative Commons Public Domain Dedication waiver (
http://​creativecommons.​org/​publicdomain/​zero/​1.​0/​
) applies to the data made available in this article, unless otherwise stated.