07.02.2018 | Head and Neck | Ausgabe 4/2018 Open Access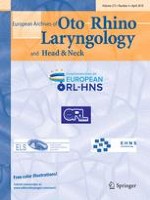 Tumors of the parapharyngeal space: the VU University Medical Center experience over a 20-year period
Zeitschrift:
Autoren:

Thijs van Hees, Stijn van Weert, Birgit Witte, C. René Leemans
Abstract
Background
Tumors of the parapharyngeal space (PPS) are rare, accounting for 0.5–1.5% of all head and neck tumors. The anatomy of the PPS is responsible for a wide variety of tumors arising from the PPS. This series of 99 PPS tumors provides an overview of the clinical course and management of PPS tumors.
Materials and methods
This retrospective study included clinical data from patients treated for PPS tumors from 1991 to 2012 (warranting at least a 4-year follow-up) at the VU University Medical Center, Amsterdam, The Netherlands.
Results
Fifty percent were salivary gland tumors, 41% were neurogenic and 9% had a different origin. 18.2% of the PPS tumors were malignant. The most reported symptom at presentation was swelling of the neck and throat. In 14%, the PPS tumor was an accidental finding following imaging for other diagnostic reasons. Cytology showed an accuracy rate of 73.1% (19/26). The positive predictive value of a malignant cytology result was 86% (95% CI 42.1–99.6%). Surgery was performed in 55 patients (56%). The most frequently performed approach (56%) was the cervical–transparotid approach, followed by the cervical (25%), transmandibular (16%) and transoral (2%) approach. Nine patients died of the disease, of which seven patients had a malignant salivary gland tumor, one patient had a pleomorphic adenoma at first diagnosis which degenerated into carcinoma ex pleomorphic adenoma and one patient died of metastatic renal cell carcinoma.
Conclusion
This large single-centre report on PPS tumors shows that careful diagnostic work up and proper surgical planning are important in this specific and rare group of head and neck tumors. Surgery was the main treatment (56%) for parapharyngeal tumors. Management of parapharyngeal neurogenic neoplasms generally consists of active surveillance due to peri-operative risk for permanent cranial nerve damage. The histopathological diagnoses were consistent with previous reports.