08.05.2017 | Case report | Ausgabe 3/2017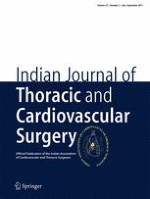 Use of veno-venous extra corporeal membrane oxygenation for tracheal resection in a patient with severe LV dilatation and LV systolic dysfunction in the setting of severe aortic regurgitation
Autoren:

Prasanth Sadasivan Nair, Henry Connell, David Haydock
Abstract
We present the use of veno-venous extracorporeal membrane oxygenation (VV-ECMO) for the surgical management of a patient with a mid-tracheal lesion complicated by a dilated aortic root and severe central aortic regurgitation resulting in left ventricular dilatation and systolic dysfunction. The utility of VV-ECMO in this situation is that the tracheal resection could be performed safely without compromising the haemodynamic status of the patient and at the same time providing a clear field for surgery. VV-ECMO has been used for endoscopic laser removal of tracheal tumours as described by Chiang et al. in Int J Gerontol 5:56–58,
7
and Smith et al. in Anesthesiology 110:427–9,
8
. It has also been used for tracheal surgery and reconstruction in children by Goldman et al. in J Pediatr 128:386–88,
9
. But VV-ECMO has rarely been used in tracheal resection and anastomosis in adults.