01.12.2018 | Research | Ausgabe 1/2018 Open Access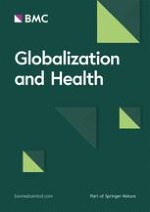 "We think globally": the rise of Paraguay's Tabacalera del Este as a threat to global tobacco control
Zeitschrift:
Autoren:

Benoît Gomis, Kelley Lee, Natalia Carrillo Botero, Philip Shepherd, Roberto Magno Iglesias
Abbreviations
CIET
Centro de Investigación de la Epidemia de Tabaquismo - Tobacco Epidemic Research Center
FARC
Revolutionary Armed Forces of Colombia (Fuerzas Armadas Revolucionarias de Colombia or FARC in Spanish)
FCTC
Framework Convention on Tobacco Control
FDI
Foreign Direct Investment
ICIJ
International Consortium of Investigative Journalists
KPMG
Klynveld Peat Marwick Goerdeler
Mercosur
Mercado Común del Sur (Spanish) or Mercado Comum do Sul (Portuguese) – Southern Common Market
MSA
Master Settlement Agreement
NIH
National Institutes of Health
PCC
First Capital Command (Primeiro Comando da Capital or PCC in Portuguese)
PMI
Philip Morris International
SA
Sociedad Anónima – Anonymous Company
TTCs
Transnational Tobacco Companies
TTID
Truth Tobacco Industry Documents
UN Comtrade
United Nations Commodity Trade Statistics Database
USPTO
US Patent and Trademark Office
WHO
World Health Organization
Introduction
Since the 1990s, there has been an accelerated restructuring of production and consumption within the tobacco industry worldwide, and further concentration of ownership in the hands of a small number of leading transnational tobacco companies (TTCs), as part of processes of tobacco industry globalization [
1
]. By 2016, 79.6% of the world cigarette market outside China was controlled by six TTCs [
2
]. Public health research to date has thus focused on the role of these companies in contributing to the growing rates of tobacco use in many emerging markets, and the corresponding rise in tobacco-related disease and death during this period [
3
]. Far less, however, is known about the business strategies of tobacco companies that have remained independent of leading TTCs [
2
], amid tobacco industry globalization, and the implications for global tobacco control [
4
,
5
].
This paper examines one of the few remaining independent tobacco companies in Latin America, Paraguay's Tabacalera del Este (known as Tabesa). Tabesa is owned by businessman Horacio Cartes, Paraguay's elected president between 2013 and 2018. When the company was established in 1994, the Paraguayan company La Vencedora, and leading TTCs British American Tobacco (BAT) and Philip Morris International (PMI) held 41%, 32%, and 22% of the domestic market share respectively [
6
]. As well as being the largest cigarette manufacturer in the country, today Tabesa is one of only two Latin American tobacco companies exporting to the US market. Building on our accompanying analysis of the tobacco industry in Paraguay from the 1960s to the early 2000s, focused on how the country was used as a major transit hub for illicit re-export of TTC brands to Brazil and Argentina [
7
], the purpose of this paper is to analyse the regional and global business strategies of Tabesa since the mid 1990s. We explain how Tabesa has grown to dominate the domestic market, then became a major regional company, and more recently expanded into an aspiring TTC, by analysing the key internal and external factors behind Tabesa's growth. This includes the central role played in this growth by the illicit tobacco trade which the World Health Organization (WHO) Framework Convention on Tobacco Control (FCTC) Protocol to Eliminate Illicit Trade in Tobacco Products defines as "any practice or conduct prohibited by law and which relates to production, shipment, receipt, possession, distribution, sale or purchase including any practice or conduct intended to facilitate such activity" (Article 1). The previous complicity of leading TTCs in the illicit tobacco trade, estimated to account for 9–12% of cigarette consumption worldwide [
8
,
9
], has been well documented [
10
–
18
]. Far less is known about the role of non TTCs in the illicit trade. While there have been longstanding media reports that Tabesa is one of the primary sources of smuggled cigarettes in Latin America [
19
–
22
], this paper provides the first detailed and scholarly account of this alleged activity, and how it fits with the company's business strategy within the context of tobacco industry globalization. We conclude by considering the implications of Tabesa's growth for implementing the FCTC and Protocol.
Background
Methods
To determine what is currently known about the tobacco industry in Paraguay, we began by reviewing the existing English, Spanish and Portuguese language scholarly literature published since 1990 using JSTOR and Google Scholar, with the keywords "Paraguay" combined with "Tabesa", "Tabacalera del Este", "tobacco", "cigarettes", and "smuggling" (and related terms). This search extended to the following subject areas: business, criminology, economics, geography, history, international relations, Latin American studies, political science, public health, and public policy and administration. A total of 154 relevant scholarly papers were identified. We then used the same keywords to search the Factiva and Lexis Nexis databases of media sources. A total of 467 relevant media articles were identified, dating between 1990 and 2016. We also reviewed industry and business news sources such as
Tobacco Reporter
(
www.​tobaccoreporter.​com
), KPMG (
www.​kpmg.​com
), Euromonitor International (
www.​euromonitor.​com
), Panjiva (
www.​panjiva.​com
), and
MarketResearch.​com
.
To understand the strategies of leading TTCs in Paraguay, we systematically searched internal industry documents available from the Truth Tobacco Industry Document (TTID) collection using English and Spanish language keywords. We initially used the keywords "Paraguay" combined using Boolean terms with "Tabesa", "Tabacalera del Este," "Boqueron," "La Vencedora," "Tabacos USA," "Tabacos del Paraguay" and "Palermo", to identify documents related to the domestic industry. We then combined "Paraguay" with "DNP" (duty not paid), "transit" and other known euphemisms for the illicit tobacco trade [
14
,
38
]. We used the snowball technique to generate additional search terms such as names of individuals, brands and projects [
39
]. A total of 1239 documents were identified and reviewed for relevance to the business strategies of Tabesa. Given that most TTID documents date from before the mid 2000s, we consulted other industry sources for more recent information on company strategies and activities. We systematically searched the company websites of Grupo Cartes (
http://​www.​grupocartes.​com.​py/​
), Tabacalera del Este (
http://​www.​tabesa.​com.​py
), Tabacos del Paraguay (
http://​www.​tabacosdelparagu​ay.​com
), Palermo (
http://​palermo.​com.​py
), Tabacos USA (
http://​www.​tabacosusa.​com
), BAT (
www.​bat.​com.​py/​
) and PMI (
https://​www.​pmi.​com
).
It is important to note that accurate measurement of the illicit tobacco trade worldwide remains difficult given the nefarious nature of the activity, varying definitions, limited availability of official and independent data sources, and unreliability of methods [
8
,
40
]. For example, estimates based solely on customs seizures can be misleading, reflecting increased law enforcement efforts rather than actual changes in illicit trade volumes [
41
–
43
]. In Latin America, we also found that industry-linked data sources are frequently uncritically cited by the media, researchers, and even government officials. However, as well as substantial evidence of TTC complicity in the illicit trade [
10
–
18
], there is evidence that TTCs have promoted over and/or underestimates of the scale of the illicit trade, and its causal factors, to serve industry interests and undermine tobacco control measures [
44
,
45
]. In some contexts, the tobacco industry even provides training to customs and law enforcement officials on how to detect illicit tobacco products, notably counterfeits which compete with their products [
46
]. Overall, the lack of comprehensive, independent and reliable data on the illicit tobacco trade in Latin America over time has been a major challenge to analysing and addressing its causes.
To address this problem, we analysed the UN Commodity Trade Statistics Database (UN Comtrade) (
http://​comtrade.​un.​org
) for independent data on the legal tobacco trade. This database "stores standardised official annual trade statistics reported by countries and reflecting international merchandise flows detailed by commodity and partner country with coverage reaching up to 99 percent of world merchandise trade" [
47
]. Using data on commodities '240220 - Cigarettes; containing tobacco', we compared reported imports from Paraguay to reported exports to eleven markets worldwide. The markets were identified in statements by Tabesa employees in the Paraguayan media: Aruba, Bulgaria, Curaçao, Mongolia, the Netherlands, the Netherlands Antilles,
1
Romania, Spain, Switzerland, UAE,
2
and US from 2001 to 2016. We used the conversion rate applied in Iglesias et al. [
48
] to estimate the number of cigarette sticks from net weight (1 kg = 956.4 cigarettes). The difference between official exports and imports is assumed, in this analysis, consistent with Merriman [
44
], to be largely composed of illicit trade.
In applying this method, to estimate the illicit tobacco trade involving Paraguay, we acknowledge that "trade statistics - as any source of information - are not free of mistakes and omissions" [
49
]. According to the World Bank, there are four reasons for discrepancies between official exports and imports: (a) imports are recorded cif (cost insurance and freight) while exports are fob (free on board) which may differ by 10–20% in value; (b) data quality may vary by country; (c) imports are usually recorded with greater accuracy because they generate tariff revenues; and (d) the same good may be recorded in different categories by the exporter and importer [
50
]. Despite these caveats, Merriman notes that "persistent discrepancies between these amounts - discrepancies that cannot be explained by other factors - provide an estimate of the amount of wholesale smuggled tobacco" [
51
].
To contextualize and triangulate our findings, we conducted 42 key informant interviews with scholars, activists, consultants, law enforcement officials and government representatives from the region by telephone between November 2014 and February 2017, and during a visit to the region in June 2015. Key informants were initially identified through the literature review, and then the snowballing method was used to identify further interviewees. Given the subject matter of this research, only two interviewees consented to be on the record (although their contributions do not form part of the final paper). Two other interviewees agreed to be quoted anonymously. Where key informants provided consent to be quoted, compliant with recognized ethics guidelines [
52
,
53
], and ethics approval from the Office of Research Ethics, Simon Fraser University, we cite key informants using generally worded attributions to maintain anonymity. The remaining key informants only consented to speak off the record. Information from these interviews provided useful background and was used to triangulate findings derived from other sources.
The above sources were compiled and triangulated, thematically and chronologically, to derive a narrative of Tabesa's business strategy and activities. To organize this material, we applied the framework of Lee and Eckhardt [
4
] heuristically to structure our analysis of its global business strategies focused on three questions: (a) what are the main factors shaping a company's global business strategy? (b) what are the specific strategies pursued to achieve globalisation? and (c) to what extent has the industry as a whole, or the specific company in question, globalised to date?
Results
"Replacing the market the multinationals abandoned": Internal and external factors shaping Tabesa's business strategy
"We think globally": Mimicking selected business strategies of leading TTCs
How globalized is Tabesa to date?
Discussion
Conclusion
Tabesa represents an emerging threat to global health as a tobacco company expanding its markets worldwide, largely through the illegal trade of low-priced cheap brands. The continuing expansion of Tabesa is part of ongoing tobacco industry globalization which has seen a growing role for aspiring TTCs in some countries. While attention to the global business strategies of leading TTCs remains critical to global tobacco control, how non-TTCs may be working in cooperation and/or competition with TTCs requires fuller analysis. Since the 1960s, Paraguay has moved from a key hub for illicit trade of TTC brands within the subregion, to a major source of illicit tobacco products worldwide, led by the growth of Tabesa. Effective implementation of the FCTC and its Protocol will require fuller understanding of the dynamic and complex nature of the illicit tobacco trade worldwide, including improved data on the activities of such non-TTCs.
Acknowledgements
The authors wish to gratefully acknowledge the assistance of Diego Vicente Arrea with undertaking additional data collection, and helpful comments of Luk Joossens which improved the quality of this manuscript. The authors acknowledge the financial support of the Simon Fraser University Central Open Access Fund.
Funding
This research was funded by the National Cancer Institute, US National Institutes of Health, Grant No. R01-CA091021. The contents of this paper are solely the responsibility of the authors and do not necessarily represent the official views of the funders.
Availability of data and materials
The datasets used and/or analysed during the current study are available from the corresponding author on reasonable request.
Authors' information
Benoît Gomis is a political scientist focusing on organized crime and terrorism, and a Research Associate in the Faculty of Health Sciences, Simon Fraser University. Natalia Carrillo Botero is an anthropologist specializing in Latin American Studies, and was a Research Fellow in the Faculty of Health Sciences, Simon Fraser University during this study. Roberto Magno Iglesias is an economist specialized in tobacco taxation and the illicit tobacco trade. Phil Shepherd is a professor of Management and International Business at Florida International University, and began studying the global cigarette industry in Latin America in the 1970s. Kelley Lee is a Tier 1 Canada Research Chair in Global Health Governance in the Faculty of Health Sciences, Simon Fraser University.
Ethics approval and consent to participate
This project received approval from the SFU Research Ethics Board, File Number [2012 s0556].
Consent for publication
Not applicable.
Competing interests
The authors declare that they have no competing interests.
Publisher's Note
Springer Nature remains neutral with regard to jurisdictional claims in published maps and institutional affiliations.
Open Access
This article is distributed under the terms of the Creative Commons Attribution 4.0 International License (
http://​creativecommons.​org/​licenses/​by/​4.​0/​
), which permits unrestricted use, distribution, and reproduction in any medium, provided you give appropriate credit to the original author(s) and the source, provide a link to the Creative Commons license, and indicate if changes were made. The Creative Commons Public Domain Dedication waiver (
http://​creativecommons.​org/​publicdomain/​zero/​1.​0/​
) applies to the data made available in this article, unless otherwise stated.
Footnotes
1
The Netherlands Antilles, whose islands included Curaçao, were part of the Netherlands until October 2010. The UN Comtrade website notes that data for the Netherlands does not include these islands.
https://​comtrade.​un.​org/​ITSY2016VolI.​pdf
.
2
We chose the UAE because of Cartes' reference to an 'Arab country' in a media interview. Euromonitor International notes that the UAE's Jebel Ali Free Zone (JAF) is "increasingly central to the trade in cheap whites", acting "as a production centre…[and] re-consignment hub for illicit white brands manufactured in Europe, Asia and Paraguay." See Euromonitor International. Trends in illicit trade.
Tobacco Journal International
. 29 April 2015.