28.01.2020 | Original Contribution | Ausgabe 1/2020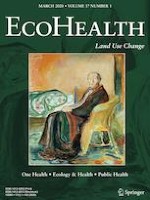 Zoonotic Disease Exposure Risk and Rabies Vaccination Among Wildlife Professionals
Zeitschrift:
Autoren:

Sheena Tarrant, Jesse Grewal, Hayley Yaglom, Elisabeth Lawaczeck, Heather Venkat
Wichtige Hinweise
Disclaimer
: The findings and conclusions in this report are those of the authors and do not necessarily represent the official position of the U.S. Centers for Disease Control and Prevention or the U.S. Department of Health and Human Services.
Abstract
More than 70% of zoonotic diseases are wildlife associated putting wildlife professionals at increased risk of occupational exposure. In 2008 and 2018, the Arizona Department of Health Services surveyed Arizona wildlife professionals from multiple agencies to assess the risk of disease exposure, rabies pre-exposure prophylaxis (PrEP) history, personal protective equipment (PPE) use, and zoonoses knowledge. In 2008, a 12-question survey was distributed at a state wildlife professional meeting using an anonymous email link. In 2018, a 20-question survey was distributed using an anonymous email link to wildlife agency employees. We received 164 and 81 complete responses in the 2008 and 2018 surveys, respectively. Bites from rabies reservoir or spillover species were higher in 2008 (42%) than in 2018 (16%). More respondents received PrEP in 2018 (53%) than in 2008 (45%). Among 43 respondents who performed necropsies or collected animal samples within the past 5 years (2014–2018), only 60% always wore latex or nitrile gloves, and 79% never wore a facemask. Respondents indicated lower awareness of certain zoonoses, including brucellosis (72%) and leptospirosis (60%). Results on zoonoses awareness and reasons for non-use of PPE highlighted targets for education to improve practices, including facilitation of PPE training to prevent future disease transmission.