16.09.2015 | Original Article | Ausgabe 3/2016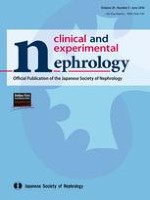 A case series of acute renal infarction at a single center in Japan
Zeitschrift:
Autoren:

Tasuku Nagasawa, Ken Matsuda, Yoichi Takeuchi, Hirotaka Fukami, Hiroyuki Sato, Ayako Saito, Yoichiro Chikamatsu, Yasumichi Kinoshita
Abstract
Background
The prevalence of acute renal infarction (ARI) in Japan remains unclear. We describe the clinical features and renal prognosis of ARI in Japanese patients.
Methods
This single-center, retrospective, observational study included 33 patients with newly diagnosed ARI (2009–2013). Their clinical features and long-term renal outcomes were evaluated.
Results
The prevalence of ARI among emergency room patients was 0.013 %. The incidence of ARI among in-patients was 0.003 % (mean age 71.9 ± 13.4 years; men 63 %). Enhanced computed tomography or renal isotope scans were obtained to diagnose ARI. ARI involved the left kidney in 70 %, right kidney in 18 %, and both kidneys in 12 % of patients. Four cases had splenic infarction, and 70 % of patients had atrial fibrillation. We noted abdominal or flank pain in 66 %, fever (>37.6 °C) in 36 %, and nausea/vomiting in 6 % of patients. The white blood cell count, and levels of lactate dehydrogenase and C-reactive protein peaked at 2–4 days after onset. Acute kidney injury due to ARI occurred in 76 % of patients. The estimated glomerular filtration rate decreased to ~70 % and recovered to ~80 % of the original value after 1 year. The mortality rates were 9 and 15 % at 1 month and 1 year, respectively.
Conclusions
We determined the prevalence of ARI among emergency room patients, its incidence among in-patients, and short-term and long-term mortality. The majority of ARI cases were of cardiac origin, and the others were due to trauma or systemic thrombotic disease. Clinicians should recognize ARI as a fatal arterial thrombotic disease.