01.12.2015 | Research article | Ausgabe 1/2015 Open Access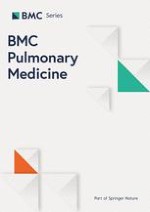 A comparison of visual and quantitative methods to identify interstitial lung abnormalities
Zeitschrift:
Autoren:

Corrine R. Kliment, Tetsuro Araki, Tracy J. Doyle, Wei Gao, Josée Dupuis, Jeanne C. Latourelle, Oscar E. Zazueta, Isis E. Fernandez, Mizuki Nishino, Yuka Okajima, James C. Ross, Raúl San José Estépar, Alejandro A. Diaz, David J. Lederer, David A. Schwartz, Edwin K. Silverman, Ivan O. Rosas, George R. Washko, George T. O'Connor, Hiroto Hatabu, Gary M. Hunninghake
Wichtige Hinweise
Competing interests
In addition to NIH grant support the following authors report these additional conflicts of interest: D.J.L. reports fees from consulting with Intermune, Gilead, Boehringer-Ingelheim, and ImmuneWorks; D.A.S. reports grants from the Veterans Administration, during the conduct of the study; other from Weitz and Luxenberg Law Firm, other from Brayton and Purcell Law Firm, other from Wallace and Graham Law Form, personal fees from Book Royalties- Medicine, Science and Dreams, outside of submitted work and additionally has a patent 6,214,806B1 with royalties paid, a patent 6,740,487B1 with royalties paid, a patent 10,316,191 with royalties paid, a patent 7,585,627 with royalties paid, a patent 7,785,794 with royalties paid, a patent 8,673,565 with royalties paid, a patent 61/248,505 pending, a 61/666,233 pending, a patent 60/992,079 pending and a patent 61/693861 pending; E.K.S. reports that he received honoraria and consulting fees from Merck and grant support and consulting fees from GlaxoSmithKline; G.R.W. reports personal fees from GlaxoSmithKline, Merck, and Intellent Market Research outside the submitted work and his spouse works for Merck Research Laboratories and; H.H. reports receiving grants or has pending grants with AZE Inc., Toshiba Medical Inc., and Cannon Inc. G.M.H. reports consulting fees from Medna L.L.C., and the George Lehman Group, and advisory board work for "Patients Like Me" and Genentech. The remaining authors report no conflicts of interest with the submitted work.
Authors' contributions
All authors have read and approved the final version of the manuscript. The following authors conceived of the study: CRK, TJD, GRW, HH, GMH; participated in the acquisition of the clinical data: TA, OEZ, IEE, MK, YO, EKS, IOR, GRW, GTO, HH; the acquisition and analysis of the genetic data: WG, JD, JCL, DAS, GTO, GMH; statistical analysis and interpretation of the clinical data: CRK, TJD, WG, JD, JCL, EKS, GRW, GTO, HH, GMH; provided administrative, technical, or material support: OEZ, IEE, JCR, RSJE, AAD, IOR, GRW; participated in the drafting of the manuscript: CRK, TA, TJD, WG, JD, JCL, OEZ, IEE, MK, YO, JCR, RSJE, AAD, DJL, DAS, EKS, IOR, GRW, GTO, HH, GMH; and guarantor of the manuscript: GMH.
Abstract
Background
Evidence suggests that individuals with interstitial lung abnormalities (ILA) on a chest computed tomogram (CT) may have an increased risk to develop a clinically significant interstitial lung disease (ILD). Although methods used to identify individuals with ILA on chest CT have included both automated quantitative and qualitative visual inspection methods, there has been not direct comparison between these two methods. To investigate this relationship, we created lung density metrics and compared these to visual assessments of ILA.
Methods
To provide a comparison between ILA detection methods based on visual assessment we generated measures of high attenuation areas (HAAs, defined by attenuation values between −600 and −250 Hounsfield Units) in >4500 participants from both the COPDGene and Framingham Heart studies (FHS). Linear and logistic regressions were used for analyses.
Results
Increased measures of HAAs (in ≥10 % of the lung) were significantly associated with ILA defined by visual inspection in both cohorts (
P
 < 0.0001); however, the positive predictive values were not very high (19 % in COPDGene and 13 % in the FHS). In COPDGene, the association between HAAs and ILA defined by visual assessment were modified by the percentage of emphysema and body mass index. Although increased HAAs were associated with reductions in total lung capacity in both cohorts, there was no evidence for an association between measurement of HAAs and
MUC5B
promoter genotype in the FHS.
Conclusion
Our findings demonstrate that increased measures of lung density may be helpful in determining the severity of lung volume reduction, but alone, are not strongly predictive of ILA defined by visual assessment. Moreover, HAAs were not associated with
MUC5B
promoter genotype.