01.12.2017 | Research | Ausgabe 1/2017 Open Access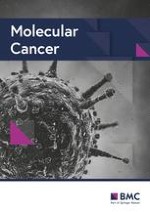 A long non-coding RNA HOTTIP expression is associated with disease progression and predicts outcome in small cell lung cancer patients
Zeitschrift:
Autoren:

Yanqin Sun, Yuanyuan Zhou, Yifeng Bai, Qiongyao Wang, Jiarong Bao, Yingshan Luo, Ying Guo, Linlang Guo
Wichtige Hinweise
Electronic supplementary material
Abstract
Background
Despite progress in treatment of small cell lung cancer (SCLC), the biology of the tumor still remains poorly understood. Recently, we globally investigated the contributions of lncRNA in SCLC with a special focus on sponge regulatory network. Here we report lncRNA HOTTIP, which is specifically amplified in SCLC, is associated with SCLC proliferation and poor prognosis of patients.
Methods
RT-qPCR was used to investigate the expression of HOTTIP in SCLC tissues and cell lines. The role of HOTTIP in SCLC cell proliferation was demonstrated by CCK8 assay, colony formation assay, flow cytometry analysis and in vivo SCLC xenograft model in nude mice through HOTTIP loss- and gain-of-function effects. Western blot assay was used to evaluate gene expression in cell lines at protein level. RNA pull-down, Mass spectrometry and RNA binding protein immunoprecipitation (RIP) were performed to confirm the molecular mechanism of HOTTIP involved in SCLC progression.
Results
We found that HOTTIP was overexpressed in SCLC tissues, and its expression was correlated with the clinical stage and the shorter survival time of SCLC patients. Moreover, HOTTIP knockdown could impair cell proliferation, affect the cell cycle and inhibit tumor growth of mice, while HOTTIP overexpression might enhance cell proliferation and cell cycle in vitro and in vivo. Mechanistic investigations showed that HOTTIP functions as an oncogene in SCLC progression by sponging miR-574-5p and affecting the expression of polycomb group protein EZH1.
Conclusions
Overall, we identified that HOTTIP was involved in SCLC tumorigenesis through the ceRNA network "HOTTIP/miR-574-5p/EZH1". Our findings not only illuminate how HOTTIP confers an oncogenic function in SCLC pathogenesis, but also underscore a novel gene expression governing hallmarks in the disease.