01.12.2017 | Research article | Ausgabe 1/2017 Open Access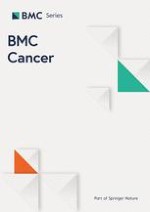 A multi-center phase II study and biomarker analysis of combined cetuximab and modified FOLFIRI as second-line treatment in patients with metastatic gastric cancer
Zeitschrift:
Autoren:

Xin Liu, Weijian Guo, Wen Zhang, Jiliang Yin, Jun Zhang, Xiaodong Zhu, Tianshu Liu, Zhiyu Chen, Biyun Wang, Jianhua Chang, Fangfang Lv, Xiaonan Hong, Huijie Wang, Jialei Wang, Xinmin Zhao, Xianghua Wu, Jin Li
Abbreviations
ECOG
Eastern cooperative oncology group
EGFR
Endothelial growth factor receptor
mCRC
Metastatic colorectal cancer
MGC
Metastatic gastric cancer
PFS
Progression free survival
VEGF
Vascular endothelial growth factor
Background
Metastatic gastric cancer (MGC), an incurable disease with a poor prognosis, is marked by a short median overall survival (OS) time. Chemotherapy comprising fluoropyrimidine and platinum (combined with trastuzumab in HER-2 positive patients) has been considered as standard therapeutic regimen in the first-line setting [
1
–
3
].
Almost all of the MGC patients experienced disease progression afte first-line treatment. Salvage chemotherapy (SLC), as second-line treatment, has been shown to significantly improve survival when added to best supportive care (BSC). A large Korean study randomized patients with MGC with one or two prior chemotherapy regimens (70% one prior therapy) to SLC (either docetaxel or irinotecan) plus BSC or BSC alone, and found that median OS was prolonged in the SLC arm (5.3 vs. 3.8 months), with no median OS difference between docetaxel and irinotecan [
4
]. A Japanese phase III study (WJOG4007) compared treatment with paclitaxel and irinotecan in patients with MGC refractory to treatment with fluoropyrimidine plus platinum. This study reported no significant difference between paclitaxel and irinotecan for OS [
5
]. Thus, both irinotecan and taxanes are reasonable second-line treatment options for MGC. The RAINBOW study showed ramucirumab (a VEGFR-2 antagonist) could increase median OS when combined with paclitaxel in second-line treatment for patients with MGC [
6
].
However, the efficacy of second-line chemotherapy for MGC is still very limited. It's urgently needed to improve the prognosis of these patients. The combination of cetuximab (an EGFR antagonist) and irinotecan has been widely used in the second or third-line treatment of metastatic colorectal cancer (mCRC) patients [
7
,
8
]. The BOND study found that cetuximab may circumvent irinotecan resistance in patients with irinotecan refractory tumors [
9
]. At the time of our study design, some phase II trials assessed cetuximab combined with chemotherapy in the first-line or second-line treatment of gastric cancer [
10
,
11
]. Since irinotecan is one of the major drugs used in the second-line treatment for MGC, and enlightened by the striking synergistic effects from the irinotecan-cetuximab combination in mCRC, we presumed that irinotecan-cetuximab combination may improve the efficacy in second-line treatment for MGC. Then we did some preclinical studies to explore whether cetuximab could enhance the activities of irinotecan on gastric cancer cell lines, and the results showed significant potentiation of antiproliferative, apoptosis and G2/M phase arrest effects in response to the addition of cetuximab to irinotecan in GC cell lines via the downregulation of the EGFR pathway upregulated by irinotecan [
12
].
Therefore, this phase II clinical trial (NCT00699881) was designed to evaluate the safety and efficacy of cetuximab combined with modified FOLFIRI (mFOLFIRI) in patients with MGC who failed to first-line chemotherapy. Plasma protein levels of VEGF and EGF, gene mutations of KRAS, BRAF and PIK3CA, and expression of P27, phosphorylated EGFR and AKT in tumor tissues were also investigated for their potential roles as biomarkers of clinical outcomes.
Methods
Patient eligibility
This open-label, single-arm, multicenter, phase II study included patients who met the following eligibility criteria: aged between 18 and 70 years; histologically confirmed metastatic or locally advanced gastric adenocarcinoma with at least one measurable lesion in a non-irradiated area; one prior chemotherapy regimen (except adjuvant chemotherapy); Eastern Cooperative Oncology Group (ECOG) performance status (PS) of 0 or 1; adequate organ function (bone marrow function: neutrophil count [ANC] ≥2.0 × 10 9/L, platelet count [PLT] ≥80 × 10 9/L; liver function: serum bilirubin and serum transaminase levels ≤1.5 × ULN [upper limit of normal]; renal function: serum creatinine ≤1.0 × ULN). The following criteria were applied for patient exclusion from the study: patients who received cetuximab or irinotecan as a first-line chemotherapy; pregnant or breast-feeding or were of child-bearing potential without using adequate contraception; had any other current or prior malignancy (with the exception of excised cervical carcinoma in situ or squamous cell skin carcinoma treated by surgery only); had central nervous system metastases; had severe or uncontrolled medical conditions (e.g., impaired heart and lung function, diabetes, active infections, or liver disease).
This study was approved by the Fudan University Shanghai Cancer Center Institutional Review Board and conducted according to the Declaration of Helsinki. All patients provided written informed consent prior to participation in this study.
Treatment and assessment
Cetuximab was administered at an initial dose of 400 mg/m 2, followed by weekly infusions (250 mg/m 2). On day 2 of each 14-day period, patients received IV irinotecan (180 mg/m 2) and LV 200 mg/m 2 and then 5-FU (400 mg/m 2) IV bolus followed by a continuous infusion of 5-FU (2400 mg/m 2) for 46 h. Treatment was continued until development of progressive disease (PD), occurrence of unacceptable toxic effects, or withdrawal of patient consent. Dose reductions and/or administration delays were applied in cases of febrile neutropenia, grade 4 myelosuppression, or grade 3/4 non-hematological toxic effects. In cases where chemotherapy was discontinued due to its toxicity, patients were allowed to continue with cetuximab. A special dose reduction scheme was specified for skin-related toxic effects.
Response evaluation was performed according to the Response Evaluation Criteria in Solid Tumors (RECIST) every eight weeks during treatment period and every 3 months after treatment was discontinued. Complete responses (CR) or partial responses (PR) were confirmed with CT scans performed at least 4 weeks apart. Adverse events (AEs) including rash were evaluated according to the National Cancer Institute Common Terminology Criteria for Adverse Events (version 3.0).
Biomarker analyses
Plasma EGF and VEGF level analysis
Venous blood for cytokine assessment was drawn into an ethylenediaminetetraacetic acid (EDTA) anticoagulant tube immediately prior to the first drug infusion. Each venous blood sample was immediately centrifuged for 10 min at 4,000 rpm and the plasma was stored at -80 °C for subsequent assay of vascular endothelial growth factor (VEGF) and endothelial growth factor (EGF) levels by enzyme-linked immunosorbent assay (ELISA) according to the instructions provided by the manufacturer (Invitrogen, US). All samples were assayed in duplicate.
Mutation analysis
Mutation analysis of KRAS, BRAF, and PIK3CA genes was performed by extraction of genomic DNA from formalin-fixed, paraffin-embedded tissue slides or sections using the QIAamp DNA Mini Kit (Qiagen, Germany). DNA was amplified using oligonucleotide primers specific for human KRAS (exons 12 and 13), BRAF (V600E) and PIK3CA (exons 9 and 20) genes and then screened with pyrosequencing.
Protein expression analysis by immunohistochemical staining
Immunohistochemical (IHC) staining of tumor samples was carried out to assess the expression of phosphorylated EGF receptor (pEGFR), and EGFR downstream molecules, such as phosphorylated AKT (pAKT), P27 and m-TOR. PTEN expression was also analysed, which located in upstream of PI3K/AKT. Positive staining was defined as staining above background level in ≥10% of cancer cells.
Statistical considerations
The primary endpoint was time-to-progression (TTP). This study was designed to test the hypothesis that a median TTP value of 4.0 months (H 1) obtained in this study is significantly different from the value of 2.5 months (H 0), which represents the median TTP of FOLFIRI as the second-line treatment for gastric cancer. Sample size was determined following Gehan's two-stage phase II optimal trial design. Fifteen patients were enrolled in the first stage. If TTP ≥ 4 months was observed in five or more patients, the study proceeded to the second stage where an additional 31 patients were enrolled. Assuming a 20% drop-out rate, a total of 55 patients were required for this study.
The secondary endpoints of the study included the RR, OS, AEs, and potential biomarkers. Survival curves were generated using the Kaplan-Meier method and comparisons of TTP and OS between groups were performed by log-rank tests. Safety analysis was performed for the safety population, which consisted of all patients who received at least one dose of cetuximab. As an exploratory endpoint, activating mutations of the KRAS, BRAF, and PIK3CA genes, expression of pEGFR, pAKT, P27, mTOR and PTEN in tumor samples, plasma protein level of VEGF, EGF, and their association with efficacy and prognosis were also analyzed. A receiver operating characteristic (ROC) curve analysis was used for selection of a cut-off point for the ligand level, which was defined as the ligand level with the highest sensitivity and specificity for the response. Statistical analysis of the correlation between biomarker status and RR was carried out using a Pearson's
χ
2 test or Fisher's Exact test.
TTP and OS were analyzed in the intent-to-treat (ITT) population. TTP was calculated from the day of the first infusion to the date of documented disease progression or last contact. Patients who had not progressed at the time of the final analysis were censored at the date of their last tumor assessment. OS was calculated from the day of the first infusion to death. Patients alive at the final survival analysis were censored using the last contact date. Statistical analyses were performed using SPSS software (version 12.0; SPSS, Chicago, IL, USA).
Results
Discussion
Conclusions
In conclusion, our study showed cetuximab combined with mFOLFIRI was well tolerated and preliminary encouraging efficacy data were obtained in the second-line treatment of MGC. Furthermore, biomarker analysis indicated that gastric cancer patients with low baseline circulating VEGF levels have better clinical outcomes. As our study is single arm, the value of cetuximab in the second-line treatment of MGC and the value of biomarker need to be confirmed in further randomized controlled clinical trials.
Acknowledgements
We are grateful to the participating patients and their families and to all other co-investigators who contributed to this study.
Funding
This study was supported by Fudan University Shanghai Cancer Center; Merck KGaA Darmstadt, Germany, and the National Natural Science Foundation of China (Grant No. 81401976). None of these fundings participated in the design of the study and collection, analysis, and interpretation of data and in writing the manuscript.
Availability of data and material
The datasets during and/or analysed during the current study were available from the corresponding author on reasonable request.
Authors' contributions
XL and WJG participated in acquisition, analysis, and interpretation of data, and drafting of the manuscript. WJG, WZ, JLY, XDZ, JZ, TSL, ZYC, JHC, FFL, XNH, HJW, JLW, XMZ and XHW participated in patients enrollment and treatment. BYW participated in the design of the study. JL conceived of the study, and participated in its design and coordination and helped to draft the manuscript. All authors read and approved the final manuscript.
Competing interests
The authors declare that they have no competing interests.
Consent for publication
Not applicable.
Ethics approval and consent to participate
This study was approved by the Fudan University Shanghai Cancer Center Institutional Review Board and conducted according to the Declaration of Helsinki. All patients provided written informed consent prior to participation in this study.
Publisher's Note
Springer Nature remains neutral with regard to jurisdictional claims in published maps and institutional affiliations.
Open Access
This article is distributed under the terms of the Creative Commons Attribution 4.0 International License (
http://​creativecommons.​org/​licenses/​by/​4.​0/​
), which permits unrestricted use, distribution, and reproduction in any medium, provided you give appropriate credit to the original author(s) and the source, provide a link to the Creative Commons license, and indicate if changes were made. The Creative Commons Public Domain Dedication waiver (
http://​creativecommons.​org/​publicdomain/​zero/​1.​0/​
) applies to the data made available in this article, unless otherwise stated.