01.12.2018 | Case report | Ausgabe 1/2018 Open Access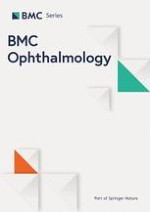 A novel PAX3 mutation in a Korean patient with Waardenburg syndrome type 1 and unilateral branch retinal vein and artery occlusion: a case report
Zeitschrift:
Autoren:

Eun Young Choi, Wungrak Choi, Christopher Seungkyu Lee
Abstract
Background
Waardenburg syndrome (WS) is a very rare genetic disorder affecting the neural crest cells. Coexistence of branch retinal vein occlusion (BRVO) and branch retinal artery occlusion (BRAO) in the same eye is also a rare finding. Here we report a case of WS type 1 that was confirmed by a novel mutation with the finding of unilateral BRVO and BRAO.
Case presentation
A 36-year-old, white-haired Korean man presented with a complaint of loss of vision in the inferior visual field of his right eye and hearing loss. He had telecanthus with a medial eyebrow and a hypochromic left iris. Funduscopy showed an ischemic change at the posterior pole in the right eye with sparing of the foveal center as well as retinal hemorrhages and white patches along the superotemporal arcade. Fundus angiography revealed the presence of both BRVO and BRAO, and optical coherence tomography showed thickening and opacification of the retinal layers corresponding to the ischemic area. A blood workup revealed hyperhomocysteinemia and the presence of antiphospholipid antibodies; both are suggestive as the cause of the BRVO and BRAO. Single nucleotide polymorphism analysis confirmed a novel
PAX3
mutation at 2q35 (c.91–95 ACTCC deletion causing a frameshift). These findings confirmed a diagnosis of WS type 1.
Conclusions
WS is a heterogeneous inherited disorder of the neural crest cells that causes pigment abnormalities and sensorineural hearing loss. This is the first report of unilateral BRVO and BRAO in a patient with WS. Furthermore, the
PAX3
mutation identified in this patient has not been reported previously.