01.03.2012 | Original Article | Ausgabe 3/2012 Open Access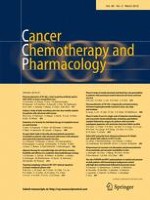 A phase I dose-escalation and pharmacokinetic study of sunitinib in combination with pemetrexed in patients with advanced solid malignancies, with an expanded cohort in non-small cell lung cancer
Zeitschrift:
Autoren:

L. Q. M. Chow, N. Blais, D. J. Jonker, S. A. Laurie, S. G. Diab, C. Canil, M. McWilliam, A. Thall, A. Ruiz-Garcia, K. Zhang, L. Tye, R. C. Chao, D. R. Camidge
Abstract
Purpose
The primary objective of this phase I dose-escalation study was to identify the maximum tolerated dose (MTD) of sunitinib plus pemetrexed in patients with advanced cancer.
Methods
Using a 3 + 3 dose-escalation design, patients received oral sunitinib qd by continuous daily dosing (CDD schedule; 37.5 or 50 mg) or 2 weeks on/1 week off treatment schedule (Schedule 2/1; 50 mg). Pemetrexed (300–500 mg/m2 IV) was administered q3w. At the proposed recommended phase 2 dose (RP2D), additional patients with non-small cell lung cancer (NSCLC) were enrolled.
Results
Thirty-five patients were enrolled on the CDD schedule and seven on Schedule 2/1. MTDs were sunitinib 37.5 mg/day (CDD/RP2D) or 50 mg/day (Schedule 2/1) with pemetrexed 500 mg/m2. Dose-limiting toxicities included grade (G) 5 cerebral hemorrhage, G3 febrile neutropenia, and G3 anorexia. Common G3/4 drug-related non-hematologic adverse events (AEs) at the CDD MTD included fatigue, anorexia, and hand–foot syndrome. G3/4 hematologic AEs included lymphopenia, neutropenia, and thrombocytopenia. No significant drug–drug interactions were identified. Five (24%) NSCLC patients had partial responses.
Conclusions
In patients with advanced solid malignancies, the MTD of sunitinib plus 500 mg/m2 pemetrexed was 37.5 mg/day (CDD schedule) or 50 mg/day (Schedule 2/1). The CDD schedule MTD was tolerable and demonstrated promising clinical benefit in NSCLC.