01.12.2017 | Study protocol | Ausgabe 1/2017 Open Access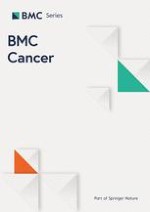 A phase II randomized trial of Observation versus stereotactic ablative RadiatIon for OLigometastatic prostate CancEr (ORIOLE)
Zeitschrift:
Autoren:

Noura Radwan, Ryan Phillips, Ashley Ross, Steven P. Rowe, Michael A. Gorin, Emmanuel S. Antonarakis, Curtiland Deville, Stephen Greco, Samuel Denmeade, Channing Paller, Daniel Y. Song, Maximilian Diehn, Hao Wang, Michael Carducci, Kenneth J. Pienta, Martin G. Pomper, Theodore L. DeWeese, Adam Dicker, Mario Eisenberger, Phuoc T. Tran
Abbreviations
ADL
Activities of daily living
ADT
Androgen deprivation therapy
CMAX
Maximum concentration of drug
CRPC
Castration-Resistant Prostate Cancer
CTCAE
Common Terminology Criteria for Adverse Events
DSMB
Data Safety Monitoring Board
HIV
Human Immunodeficiency Virus
IRB
Institutional Review Board
PFS
Progression free survival
RECIST
Response evaluation criteria in solid tumors
SABR
Stereotactic ablative radiation therapy
SBRT
Stereotactic body radiation therapy
Background
Methods/design
This study was approved by the Reaserach Ethics Boards of Johns Hopkins Medicine. The ORIOLE Trial is registered at the US National Institutes of Health (ClinicalTrials.gov) # NCT02680587 and Current Controlled Trials IND/IDE Number: 121064.
Discussion
The standard treatment options for metastatic hormone sensitive prostate cancer have remained unchanged for many years involving principally hormonal therapy. However, hormonal therapy can have troublesome side effects and any effort to delay the start of hormonal therapy would be an advantage to the patient. Radiation treatment was historically not given at high enough doses to metastases to provide durable local control. SABR is highly targeted radiation, delivered in a dose-intensive fashion in 1 to 5 fractions, which has been shown to be very effective on bone and soft tissue metastases. This phase II randomized study will compare SABR to observation with respect to progression of disease, freedom from hormonal therapy, and other relevant clinical endpoints. Simultaneously, a unique perspective on the impact of SABR on the biology of the oligometastatic state will be obtained through correlation of clinical response with measures of tumor burden, hematologic dynamics of metastasis, and immunologic response. Finally, the pursuit of patient-centered, personalized approaches to treatment will be furthered through investigation of targeted imaging and genomic susceptibility characterization.
Acknowledgements
We would like to thank the following team members for their contribution to the success of this on-going trial: Helen Kim, Terry Caldwell, Christina Rodriguez, Shirl Dipasquale, Ashley Bruns, Jo Hurtt, Ruth Chamberlain, Barbara Squiller and Julie Ambrozak. The granting bodies had no role in the design or execution of the study; data collection, management, analysis, or interpretation of the data; preparation, review, or approval of the manuscript.
Funding
Grant Sponsors: NCI 1U01CA183031-01A1, PCF Young Investigator Award, and Movember-Prostate Cancer Foundation Challenge Award.
Availability of data and materials
The datasets used and/or analyzed during the current study are available from the corresponding author on reasonable request.
Ethics approval and consent to participate
This study will be carried out in compliance with the protocol and Good Clinical Practice, as described in: ICH Harmonized Tripartite Guidelines for Good Clinical Practice 1996; US 21 Code of Federal Regulations dealing with clinical studies (including parts 50 and 56 concerning informed consent and IRB regulations); and the Declaration of Helsinki, concerning medical research in humans (Recommendations Guiding Physicians in Biomedical Research Involving Human Subjects, Helsinki 1964, amended Tokyo 1975, Venice 1983, Hong Kong 1989, Somerset West 1996). The investigator agrees to adhere to the instructions and procedures described in it and thereby to adhere to the principles of Good Clinical Practice. Written informed consent are obtained from each patient before any study-specific procedure takes place. Participation in the study and date of informed consent patient are being documented appropriately in each patient's files. A Data Monitoring Committee is in place to monitor the trial. Data and safety monitoring oversight is conducted by the SKCCC at Johns Hopkins Safety Monitoring Committee. Per the SKCCC at Johns Hopkins Safety Monitoring plan, the CRO AQ will forward summaries of all monitoring reports to the Safety Monitoring Committee for review.
Consent for publication
Not applicable.
Competing interests
MGP is a co-inventor on a US Patent covering 18F–DCFPyL and as such is entitled to a portion of any licensing fees and royalties generated by this technology. This arrangement has been reviewed and approved by the Johns Hopkins University in accordance with its conflict of interest policies. MAG has served as a consultant to Progenics Pharmaceuticals, the licensee of 18F–DCFPyL. The remaining authors declare no conflict of interest.
Publisher's Note
Springer Nature remains neutral with regard to jurisdictional claims in published maps and institutional affiliations.
Open Access
This article is distributed under the terms of the Creative Commons Attribution 4.0 International License (
http://​creativecommons.​org/​licenses/​by/​4.​0/​
), which permits unrestricted use, distribution, and reproduction in any medium, provided you give appropriate credit to the original author(s) and the source, provide a link to the Creative Commons license, and indicate if changes were made. The Creative Commons Public Domain Dedication waiver (
http://​creativecommons.​org/​publicdomain/​zero/​1.​0/​
) applies to the data made available in this article, unless otherwise stated.