01.03.2012 | Original article | Ausgabe 2/2012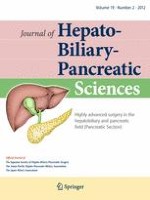 A phase II study of oral S-1 with concurrent radiotherapy followed by chemotherapy with S-1 alone for locally advanced pancreatic cancer
Zeitschrift:
Autoren:

Hiroyuki Shinchi, Kosei Maemura, Yuko Mataki, Hiroshi Kurahara, Masahiko Sakoda, Shinichi Ueno, Yoshiyuki Hiraki, Masayuki Nakajo, Shoji Natsugoe, Sonshin Takao
Abstract
Background/purpose
S-1 is a new oral fluoropyrimidine anticancer agent shown to be effective for pancreatic cancer. In a previous phase I trial, we evaluated the safety of S-1 combined with radiotherapy to determine the maximum tolerated dose and dose-limiting toxicity in patients with unresectable pancreatic cancer. The recommended dose of S-1 for phase II trials of chemoradiotherapy was determined as 80 mg/m2/day given on days 1–21 of a 28-day cycle. This phase II study was conducted to further evaluate the efficacy and toxicity of radiotherapy combined with S-1 (UMIN000004794).
Methods
Eligible patients had locally advanced and unresectable pancreatic cancer without distant metastases, an Eastern Cooperative Oncology Group performance status of 0–1, adequate organ and marrow functions, and no prior anticancer therapy. Patients initially received 4 weeks of chemoradiotherapy. S-1 was given orally at a dose of 80 mg/m2/day twice daily on days 1–21. Radiotherapy was delivered in fractions of 1.25 Gy twice daily, 5 days per week for 4 weeks (total dose: 50 Gy in 40 fractions). One month after the completion of chemoradiotherapy, S-1 was administered for 14 days followed by a 14-day rest period. This cycle was repeated as maintenance therapy until disease progression or unacceptable toxicity.
Results
Fifty patients were enrolled in this phase II study. Median follow-up was 14.6 months (range 5.4–58.9 months). Forty-three patients (86%) completed the scheduled course of chemoradiotherapy. There was no treatment-related death or grade 4 toxicity. The major toxic effects were leukopenia and nausea. The objective tumor response according to the Response Evaluation Criteria in Solid Tumours criteria was partial response in 15 patients (30%) (95% confidence interval (CI), 18–45%), stable disease in 23 (46%), and progressive disease in 12 (24%). Median progression-free survival and median overall survival were 6.7 months (95% CI, 4.7–11.2 months) and 14.3 months (95% CI, 10.8–20.8 months), respectively. Survival rates at 1 and 2 years were 62 and 27%, respectively.
Conclusions
Combination therapy with S-1 and radiation in patients with locally advanced and unresectable pancreatic cancer is considered a promising, well-tolerated regimen that can be recommended as an effective treatment for locally advanced pancreatic cancer.