13.11.2014 | Original Article | Ausgabe 2/2017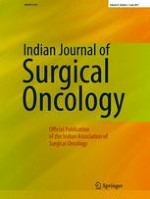 A Prospective Study of Level IIB Nodal Metastasis (Supraretrospinal) in Clinically N0 Oral Squamous Cell Carcinoma in Indian Population.
Zeitschrift:
Autoren:

Yogen P. Chheda, Sundaram K. Pillai, Devendra G. Parikh, Nandy Dipayan, Shakuntala V. Shah, Gupta Alaknanda
Abstract
Oral cavity carcinoma is the most common cancer in Indian population. Metastatic nodal disease is the most important prognostic factor for oral cancers. In head and neck cancers with clinically N0 neck, standard selective neck dissection is performed by protecting the spinal accessory nerve to remove level IIA & IIB lymph nodes. The purpose of this study was to analyze the significance of level IIB dissection in patients of oral cavity cancer who underwent primary surgery with functional neck dissection. Two hundred ten patients with clinically N0 neck underwent neck dissection, where level IIB lymph nodes were dissected, labelled and processed separately. Among 210 patients of clinically N0 neck, 168 patients were pathologically N0 (80 %). Out of remaining 42 (20 %), 36 (17.14 %) were pN1 and 6 (2.86 %) were pN2. Among those with pN1 (36), level IB was involved in 24 patients (66.67 %) and level IIA was involved in 12 patients (33.33 %). Only 2 patients had involvement of level IIB lymph nodes. Among 6 patients of pN2 disease, 4 patients had simultaneous involvement of level IB and level IIA lymph nodes. Remaining 2 patients had isolated involvement of level III lymph nodes. Thus only 2 patients (< 1 %) out of 210 clinically N0 oral squamous cell carcinoma showed level IIB lymph node involvement. Thus we conclude that a frozen section of level 2a is advisable to decide the need for level 2b node dissection in clinically N0 neck as the sensitivity of clinical evaluation is extremely low.