01.12.2016 | Case report | Ausgabe 1/2016 Open Access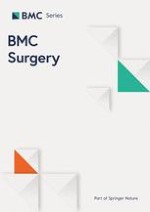 A rare case of IgG4-related disease: a gastric mass, associated with regional lymphadenopathy
Zeitschrift:
Autoren:

Dimitar Bulanov, Elena Arabadzhieva, Sasho Bonev, Atanas Yonkov, Diana Kyoseva, Tihomir Dikov, Violeta Dimitrova
Abstract
Background
IgG4-related disease (IgG4-RD) is a newly recognized disorder, characterized by massive IgG4+ lymphocyte and plasma cell infiltration, storiform fibrosis, causing enlargement, nodules or thickening of the various organs, simultaneously or metachronously. Involvement of the gastrointestinal tract is very rare and can be presented as a diffuse wall thickening or polyp or mass-like lesion. Up to now, there have been reported only a few cases of isolated gastric IgG4-RD.
Case presentation
We present an unusual case of IgG4-RD of the stomach with involvement of the regional lymph nodes, clinically manifested as a gastric cancer with related pyloric stenosis. The patient underwent distal gastrectomy, omentectomy and lymph node dissection. The postoperative serum IgG4 level was increased. The diagnosis was confirmed by immunohistochemical study.
Conclusions
In the most of the reported cases there was not sufficient data about the regional lymph nodal status, although the majority of the patients had been operated with presumptive diagnosis of gastric neoplasm. Our case is rare and valuable because it presents a gastric IgG4-related lesion larger than all previously reported in literature, and IgG4-related lymphadenopathy, confirmed histologically, which contributes to better knowledge of the disease.