01.06.2016 | Clinical trial | Ausgabe 3/2016 Open Access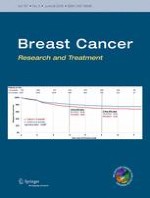 A single-center, randomized, parallel controlled study comparing the efficacy and safety aspects of three anthracycline-based regimens as neoadjuvant chemotherapy in primary breast cancer
Zeitschrift:
Autoren:

Yijun Zhou, Tao Ouyang, Yuntao Xie, Tianfeng Wang, Zhaoqing Fan, Yingjian He, Aiping Lu, Yiqiang Liu, Jinfeng Li
Abstract
This study aimed to compare the efficacy and safety aspects of three anthracycline-based regimens as neoadjuvant chemotherapy in primary breast cancer. Five-hundred and one patients with clinical stage I–III invasive breast cancer were randomly assigned to receive four cycles of neoadjuvant chemotherapy with either CEFci arm (5-Fu 200 mg/m
2
daily by 24-h continuous infusion and epirubicin 100 mg/m
2
and cyclophosphamide 600 mg/m
2
intravenous bolus on day 1), CEF arm (cyclophosphamide 600 mg/m
2
, epirubicin 100 mg/m
2
, and 5-Fu 600 mg/m
2
i.v. on day 1), or EC arm (epirubicin 100 mg/m
2
and cyclophosphamide 600 mg/m
2
i.v. on day 1). The pathologic responses to chemotherapy were assessed according to the Miller and Payne grading system (MP). A total of 485 patients were included in the intent-to-treat population. Breast pathologic complete response (pCR) rate was 18.9 % (31/164) in CEFci arm, 15.0 % (24/160) in CEF arm, and 12.4 % (20/161) in EC arm (
P
= 0.266). MP grading system 4/5 response rate was significantly higher in CEFci arm than that in CEF arm and EC arm (44.5, 31.3 and 27.3 %, respectively,
P
= 0.003). There was no significant difference on grade III/IV neutropenia among three arms (
P
= 0.538), but thrombocytopenia, decreased hemoglobin, and elevated aminotransferase appeared to be observed more in CEFci arm (
P
= 0.040, 0.059, and 0.073, respectively). CEFci did not reach a higher pCR rate compared with CEF or EC in patients with primary breast cancer. The potential advantage of CEFci in improving pathologic response still requires further research. The accompanied hematologic and biochemical toxicities, and the catheter-related complications should also be noted.