14.10.2016 | Scientific Review | Ausgabe 1/2017 Open Access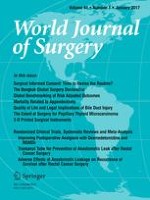 Adverse Effects of Anastomotic Leakage on Local Recurrence and Survival After Curative Anterior Resection for Rectal Cancer: A Systematic Review and Meta-analysis
Zeitschrift:
Autoren:

Shuanhu Wang, Jingjing Liu, Shan Wang, Hongyun Zhao, Sitang Ge, Wenbin Wang
Abstract
Background
Anastomotic leakage is a serious complication associated with anterior resection for rectal cancer, the long-term effects of which are unclear. Therefore, a systematic review and meta-analysis were conducted to evaluate the impact of anastomotic leakage on disease recurrence and survival.
Methods
We searched PubMed, Embase, and the Cochrane Library databases from their inception to January 2016. Studies evaluating the oncologic impact of anastomotic leakage were included in the meta-analysis. Outcome measures were local recurrence, overall survival, cancer-specific survival, and distant recurrence. Pooled hazard ratio (HR) with 95 % confidence interval (CI) was calculated using random effects models.
Results
Fourteen studies containing 11,353 patients met inclusion criteria. Anastomotic leakage was associated with a greater local recurrence (HR 1.71; 95 % CI 1.22–2.38) and decreased in both overall survival (HR 1.67; 95 % CI 1.19–2.35) and cancer-specific survival (HR 1.30; 95 % CI 1.08–1.56); anastomotic leakage did not increase distant recurrence (HR 1.03; 95 % CI 0.76–1.40).
Conclusions
Anastomotic leakage was associated with high local recurrence and poor survival (both overall and cancer-specific), but not with distant recurrence.